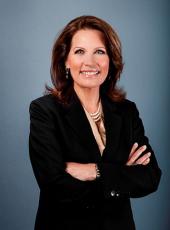 Press Release - Bachmann Unequivocal on Conservative Principles at Thanksgiving Family Forum
Republican presidential candidates gathered tonight at the Thanksgiving Family Forum in Des Moines, Iowa to discuss the conservative values upon which our country was founded. Michele Bachmann, the consistent conservative in the GOP race, was unwavering on her principles to defend life, uphold the Constitution, and return America to prosperity.
As the debate began, Bachmann commented on the need for religious leaders to be empowered to preach from the pulpit about political principles that have an effect on faith and the family. Bachmann cited the lasting impact of Senator Lyndon Johnson's 1954 amendment to a revenue bill as an example of the political censorship of preachers when she said, "We silence the pastors because of a law that Lyndon Johnson put into effect in the 1950s – because he didn't want them to say something against him. What I would do is back the repeal of that law so that we could exercise First Amendment rights everywhere including in this church and every pulpit."
Bachmann, asserting her biblical worldview, shared the role her faith plays in governing her actions and the actions she would pursue as president; "[God] created every aspect of life and he has something to say about every aspect of life so my view of the world is a biblical worldview where I want to see what he has to say about it, because he wrote the owner's manual so to speak.  Now people may choose not to go along with a biblical worldview. I do."
She was unequivocal in applying her worldview when the subject turned to the value of life. "Every human being is made in the image and the likeness of the holy God.  And every human being deserves and needs that protection from our federal government.  I will stand for it," Bachmann said.
Bachmann was quick to emphasize, however, that Obamacare doesn't afford those protections to the unborn because for the first time in U.S. history, taxpayers will effectively subsidize abortion as a result of the law. "The new playground of the left is in Obamacare because Planned Parenthood now will be pushing chemical abortion and billing that to the federal government under preventative care," Bachmann said. "This is the only election and the only chance we have to repeal Obamacare.  That's why this is the issue, and we have to have a candidate, and I am, that is committed to the full-scale repeal of Obamacare.  We can't get it wrong."
When moderator Frank Luntz asked each candidate to discuss the personal experiences that have shaped their lives, Bachmann poignantly shared how her financial struggles and close family bond molded the woman she is today. As a young girl, Bachmann's parents divorced and her family dropped below the poverty level. But her mother told her, "It's hard now, but we are going to hold on and we are going to get through this, we are going go be okay."
Bachmann and her brothers got jobs to help their mother; paying for the essentials they needed like glasses and school lunches. She credits that experience now as one that helped define her work ethic — "It taught me the value of a dollar, and that necessity is the mother of invention.  That no one owes me a living and an honest days work is an honest day's pay.  And that true work is your bond. All those enervating animating principles really are the basis of the country."
When the subject turned to a marriage amendment, Bachmann was clear on her stance of marriage being between one man and one woman when she said, "I carried and championed the marriage amendment when I was a state senator in Minnesota.  Even after I left to go to Congress, I continued to work with my successors, and after seven years of perseverance, and a very unlikely state, we successfully passed it through the legislature. "
As president, Bachmann promised to champion the definition of marriage when she stated, "I will get behind legislation in Congress and I will also get behind the federal marriage amendment I will do whatever it takes because the first and foremost unit of government in this nation is the family."
Focusing on the family, Bachman addressed the need for more family intervention in education. "What we want to do is make sure that we don't have the federal government involved in education. We want to make sure that education stays as close to the family as we can," Bachmann said. "We need to empower every parent in the United States to be able to have true education choice for their child."
To close the Forum, Luntz directed each candidate to offer his or her perspective on war. Offering her stance and critiquing President Obama's lack of leadership on foreign policy issues, Bachmann declared, "The No.1 duty of commander in chief is to secure the safety of the American people.  And in order to [go to war], I have to be convinced as commander in chief that we have a clearly defined American vital interest in that area.  And I need to know that we also have a clear mission to go forward.  We have a plan and an exit strategy. And when we go in, I will commit overwhelming force and then we get out."
Bachmann emphasized during the Forum the vital nature of the 2012 election, as it will define our growth and competitiveness both domestically and internationally. "This election is bigger than Republican, Democrat and Independent," Bachmann affirmed. "This election is going to be the whole country coming together to save America.  And that's what I'm excited about."
Michele Bachmann, Press Release - Bachmann Unequivocal on Conservative Principles at Thanksgiving Family Forum Online by Gerhard Peters and John T. Woolley, The American Presidency Project https://www.presidency.ucsb.edu/node/298950