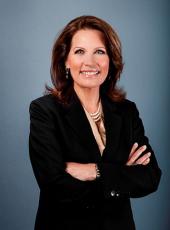 Press Release - Bachmann Showcases Leadership at GOP Presidential Debate
Simi Valley, Calif. — After only 60 days in the 2012 presidential race and a solid victory at 2011 Iowa Straw Poll, Michele Bachmann demonstrated again in tonight's GOP Presidential debate that she has the vision, the experience, and the leadership to serve as President of this great nation, and is not beholden to anyone but the American people to move the United States forward in the right direction. But she believes we are on the wrong path, and the country cannot afford another four years of President Obama's massive spending packages, strangling regulations and failed economic policies.
Having listened to the concerns of countless voters, business owners and local leaders regarding the harshest mandate — Obamacare, Bachmann led off tonight's debate with their sentiments by stating, "As I go across the country and speak to small business people — men and woman, Obamacare is leading them to not create jobs. We know that from the nonpartisan Congressional Budget Office, but I know it firsthand from speaking to people. And Obamacare is clearly leading to job-killing regulations not job-creating regulations."
She continued by stating it will take a strong leader that will spearhead the effort to repeal mandates, "I was the very first member of Congress to introduce the bill to actually repeal Obamacare. This is the issue of 2012, together with jobs. It must be gone now and, as President of the United States, I will not rest until I repeal Obamacare."
On the topic of energy and job creation, Bachmann was quick to note that energy production is one of the greatest opportunities for job creation that we have in the United States.
"We just learned today that if the federal government would pull back on all the regulatory restrictions on American energy production we could see 1.2 million jobs created in the United States," Bachmann commented. "We could also see creation of over 50 percent more in American energy production and we could also see $800 billion more in revenue coming into the United States government."
Bachmann closed out the debate by affirming she is the strong leader the country needs during these uncertain times — not more speeches and Washington politics; "Tomorrow night when the nation tunes into the President I'm afraid that we won't be seeing permanent solutions. I'm afraid that what we'll be seeing is temporary gimmicks and more of the same that we have seen before. We have to have a President with a core sense of conviction that's going to fight on these issues."
Michele Bachmann, Press Release - Bachmann Showcases Leadership at GOP Presidential Debate Online by Gerhard Peters and John T. Woolley, The American Presidency Project https://www.presidency.ucsb.edu/node/298808