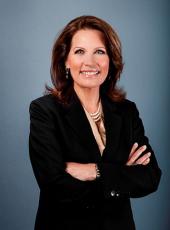 Press Release - Bachmann for President Names Ryan Rhodes as Tea Party Outreach Director
Rhodes: Known for confronting Pres. Obama on V.P. Biden comparing Tea Party activists to terrorists
Urbandale, Iowa – The Bachmann for President campaign announced today that Tea Party activist Ryan Rhodes has been named Tea Party Outreach Director. Rhodes joins the growing Bachmann team in Iowa, which is building momentum heading into the Jan. 3 Iowa caucuses.
"I'm excited to join Michele Bachmann in helping organize Tea Party coalition efforts. We must have someone who keeps our issues on the table against Barack Obama," Rhodes said. "As someone who has worked to advance a set of constitutional principles, I believe Congresswoman Bachmann represents the solution as someone who has stood with us in the nation's capitol and will continue to fight for those principles of limited constitutional government in the White House."
Rhodes gained national recognition last summer for engaging in a pointed face-to-face conversation with President Obama in Decorah, Iowa, challenging the president to repudiate Vice President Joe Biden's statement comparing Tea Party activists to terrorists. "When you're talking about civility, how is your vice president calling us terrorists?," Rhodes said at the time.
Rhodes is chairman of the Iowa Tea Party, having previously worked as political director for Iowa congressional candidate Dave Funk in 2010 and as a consultant for the Iowa Senate Republican Fund on six campaigns during the 2010 cycle.
"Ryan has proven to be fearless in standing up for his beliefs," said national campaign manager Keith Nahigian. "He's a great match for Michele Bachmann's campaign because she has shown time and again that she will fight for the issues that matter most to everyday Americans. She stood against the government bailout of Wall Street. She's the only candidate in the race to introduce legislation to repeal Obamacare and she stood against raising the federal debt limit and spending this generation and future generations deeper into debt."
Michele Bachmann, Press Release - Bachmann for President Names Ryan Rhodes as Tea Party Outreach Director Online by Gerhard Peters and John T. Woolley, The American Presidency Project https://www.presidency.ucsb.edu/node/298897