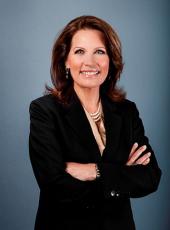 Press Release - Bachmann Focuses on Fair Taxes and Growth at CNBC Debate
Auburn Hills, Mich. – Republican presidential candidate Michele Bachmann focused on economic growth, fair taxation and job creation tonight at the CNBC GOP debate.
To begin the debate, Bachmann pinpointed two key issues hindering job creation in the United States – high corporate taxes and regulatory burdens; "Taxes lead to jobs leaving the country. We have the second highest corporate tax rate in the world. We have to lower the tax rate because it's a cost of doing business, but we have to do so much more than that. Our biggest problem right now is our regulatory burden."
Bachmann then offered her solution to spur job creation – reduce the regulatory burden on businesses and legalize American energy to create long-term, high-paying jobs in the United States.
She then turned the tables on the Obama administration's failure to advance policies that encourage job growth. Bachmann said, "President Obama's plan for job creation has absolutely nothing to do with the true people who know how to create jobs. He should really be going to job creators if he wants to know how to create jobs, instead he continues to go to General Axelrod."
"In my tax plan I have everyone paying something, because everyone benefits by this amazing country," said Bachmann. "So even if it means paying the price of two Happy Meals a year like $10, everyone can afford to pay at least that. We all benefit, we all need to sacrifice. Everybody needs to be a part of this tax code."
During the debate, Bachmann pounded on Fannie and Freddie for requesting bailouts while offering bonuses to top executives by saying, "For these geniuses to give ten of there top executives bonuses and then have the guts to come to the American people and say give us another $13 billion to bail us out just for the quarter, that's lunacy. We need to put them back into bankruptcy and put them out of business."
Bachmann, the chief author of the bill to repeal Obamacare, laid out her plan to provide quality, affordable healthcare to all Americans. She said, "What I would do is allow every American to buy any health insurance policy they want anywhere in the United States without any federal minimum mandate. No. 2, I would allow every American to pay for that insurance policy, their deductible, their copay, their pharmaceuticals, whatever it is that's medical related with their own tax-free money. And then finally, I'd have true medical malpractice liability reform."
Rounding out the debate, Bachmann hit China as "bad actors" in the global economy and reaffirmed her position that the government needs to stop excessively spending money we don't have; "What we need to do is stop enriching China with our money. And we do that by stop borrowing from them by stop spending money that we don't have."
Michele Bachmann, Press Release - Bachmann Focuses on Fair Taxes and Growth at CNBC Debate Online by Gerhard Peters and John T. Woolley, The American Presidency Project https://www.presidency.ucsb.edu/node/298891