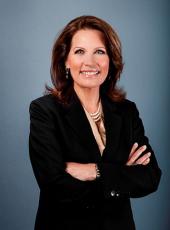 Press Release - Bachmann Campaign Announces 91 County Chairs and Precinct Leadership in all 99 Iowa Counties
Urbandale, Iowa – Republican presidential candidate Michele Bachmann today announced her Iowa campaign has county chairs in 91 of the state's 99 counties and precinct leadership in every county. The announcement is further evidence of Team Bachmann's exceptional grassroots organizational strength, one of which has been gaining significant momentum as the Iowa caucuses near.
"I'm honored to have the support from committed conservatives across Iowa," Bachmann said. "There's always been the argument that the presidential battle is waged in Iowa's 18 urban counties and that the 81 less-populous, rural counties don't matter as much. Every voice, every voter counts, and with a win in Iowa, I intend to take those voices with me to the White House."
The Bachmann for President campaign announced the following county chairs:

Adair, Lynn Burgmair

Allamakee, David Johnson

Appanoose, Jill Seibert

Audubon, Ronda Anthofer

Benton, Jerald Bronemann

Black Hawk, Dean Smith

Boone, Debby Johnson and Paul Dayton

Bremer, Erik Vance

Buchanan, Jared Abry

Buena Vista, Melva Urban

Butler, Jeanne Tocco

Calhoun, Phil and Jane Cline

Carroll, Ben Kolars

Cedar, Shirley Giedelmann

Cerro Gordo, Tim King and Audrey Moor

Cherokee, Dewayne Diamond

Chickasaw, Kevin Bee

Clarke, Scott MacLin

Clay, Curt Langner

Clayton, Bob Sipe

Clinton, Dianne Koczinski

Crawford, Paul Rehm

Dallas, Vicki Crawford

Davis, Brenda and Randall Burns

Decatur, Terry Taylor

Delaware, Robb Harter

Des Moines, Brad Cranston

Dickinson, Matthew Lueck

Dubuque, Russell Riesling

Emmet, Kim Hageman

Fayette, Tim Butikofer

Floyd, Mark Tlusty

Franklin, Jerry Passehl

Fremont, Rob Vermillion

Grundy, Bill Hoffman

Guthrie, Byron Sheeder

Hamilton, Steve Fisher

Hancock, John Wacker

Hardin, Mark Carpenter

Harrison, Alan Ronk

Henry, Tonya Campbell

Howard, Sam Kramer

Humboldt, Mike and Barb Adams

Ida, George and Carol Remer

Iowa, Brad Sherman

Jackson, Bob Koontz

Jasper, Norm Rozendaal

Jefferson, David Eastburn

Johnson, Randy Crawford

Jones, Debra Anne Berberich

Keokuk, Kathy Workman

Kossuth, Joyce Macek

Lee, Dan and Donna Holman

Linn, Althea Hasse

Lucas, Leslie Fee

Lyon, Jennifer Vande Griend

Madison, Ken Crow

Mahaska, Pat Scanlon

Marion, Gary Hummel

Marshall, Thomas Moore

Mills, Katie Marvel

Mitchell, Les Hardy

Monroe, Wanda Crosson

Montgomery, Kailon Goettsche

Muscatine, Gina Chesling

O'Brien, Mary Berkenpas

Osceola, Darlen East

Page, Iris Morrison

Palo Alto, Sam Hankelvig

Plymouth, Rob Nason

Pocahontas, Norma Halverson

Polk, Brad Zaun

Pottawattamie, Lenny Scaletta

Poweshiek, Jill Hollingsworth

Ringgold, Rebecka Strait

Sac, Caleb Hedeen

Scott, Bernadette Linehan

Shelby, Nancy and Dave Boettger

Sioux, Tammy Kobza

Story, Debby Johnson and Jason and Amanda Kramer

Tama, Kelly Jantzen

Union, Frank Kinkade

Van Buren, Dan Cesar

Wapello, Jane Hodoly

Warren, Jim Fehl and Evelyn McCoy

Washington, Marie Kerr

Wayne, Ken Halfhill

Webster, Kelly Bradley

Woodbury, Julie-Marr-Potter

Worth, Stan Lucas

Wright, Paul Bubeck
Michele Bachmann, Press Release - Bachmann Campaign Announces 91 County Chairs and Precinct Leadership in all 99 Iowa Counties Online by Gerhard Peters and John T. Woolley, The American Presidency Project https://www.presidency.ucsb.edu/node/298867