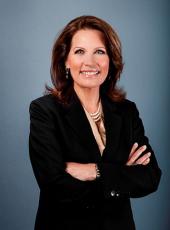 Press Release - Bachmann Announces South Carolina Team
Wesley Donehue joins Ron Thomas and Sheri Few as Senior Advisor
Columbia, SC – Republican presidential candidate Michele Bachmann announced today the team that will lead her presidential campaign to victory in the nation's key "first-in-the-south'" primary. Joining previously announced senior advisor Ron Thomas and state campaign director Sheri Few is South Carolina political strategist Wesley Donehue. Donehue will help lead state strategy and communications, as well as aiding the national new media team.
"We're running in South Carolina to win, and I know Ron, Wesley, and Sheri will help me deliver my message of controlling spending, limiting government, and securing the border to the people of the Palmetto State," Bachmann said. "South Carolinians want someone with a proven track record of fighting to uphold our conservative values, both personally and politically; I am that candidate."
The full South Carolina team includes:
SC Senior Advisor, Ron Thomas

Thomas served as President George W. Bush's appointee as deputy assistant secretary for policy in the United States Department of Veterans Affairs. He also served as the designated federal official for the Secretary's Advisory Committee of Operation Iraqi Freedom/Operation Enduring Freedom Veterans and Families. In 2004, Mr. Thomas was elected second vice chairman of the South Carolina Republican Party. He is former political director for the SCGOP, a delegate to the 2004 Republican National Convention, vice chairman of the South Carolina delegation, and the vice president of the South Carolina Republican Party Convention. Thomas is a 1997 grad of USMA at West Point and a 2004 graduate of the USC School of Law.
SC Senior Advisor and SC Communications Director, Wesley Donehue

Wesley Donehue will serve as a SC consultant and SC communications director and he will aide in national new media outreach. Donehue is the CEO of Donehue Direct, a Columbia, SC-based political consulting and Internet strategy firm. He currently serves as the political director and spokesman for the SC Senate Republican Caucus and the general consultant for numerous members of the SC General Assembly. Donehue is currently the senior Internet consultant for campaigns across the country, including Congressman Joe Wilson in South Carolina. Last cycle he served as a strategist for the SC Republican Party, helping lead the party to historic wins.
SC State Campaign Director, Sheri Few

Few is the founder and president of SC Parents Involved in Education. Mrs. Few is a gubernatorial appointee to the South Carolina Commission on Women and currently serves as chair. She is president of the Kershaw County Republican Women; treasurer of the Kershaw County Republican Party; associate member of the Capital City Republican Women; and lifetime member of the SC General Assembly's Women's Caucus. She is former commissioner to Governor's Campbell and Beasley; former chairman and executive committeeman of the Kershaw County Republican Party; and co-founder and chair of Midlands Crisis Pregnancy Center. Few has been active in the SC TEA Party movement since its inception and has been a featured speaker at many state capital rallies.
Assistant to the Director, Gavin Smith

Smith is a college student studying International Business and Political Science and plans to attend law school. In 2010, Smith volunteered for gubernatorial election events for Nikki Haley. Following Haley's election, he worked as an intern in her transition office and later in her Executive Office. Here he worked on constituent services, legislative relations, and office operations. Smith recently founded and serves as president and CEO of a non-profit designed for students living in financial crisis in the Midlands of South Carolina.
Upstate Coordinator, Natalie Lennon

Lennon is a graduate of Bob Jones University majoring in Political Science. She worked on the Gresham Barrett campaign for South Carolina Governor in 2010,maintaining the local campaign office, recruiting volunteers and assisting with local debates and other events. She was also a volunteer for the Wendy Nanney for State House campaign in 2008. Miss Lennon was a delegate to the Greenville County GOP Convention in 2011.
Midlands Coordinator, Patsy Dabney

Dabney is a real estate agent and longtime conservative activist. She served as campaign manager and lead volunteer for various state house campaigns. Mrs. Dabney has been a grassroots activist for conservative issues for over 30 years, and previously served as a School Board member in Alabama while her husband was serving in the US Army.
Low Country Coordinator, Taylor Mason

Mason is a Junior at USC-Beaufort with a strong record of campus leadership. Prior to his position with Team Bachmann, Mason served as chairman of the College Republicans, secretary general of the Beaufort County Republican Party (BCRP), and the director of youth involvement for the BCRP. In addition, Mason was instrumental in planning and coordinating "Rock the Vote," a key young voter initiative featuring state and federal candidates. In 2010, he worked with the Joe Wilson campaign, helping compile opposition research, and organizing campaign rallies and other campaign events.
Michele Bachmann, Press Release - Bachmann Announces South Carolina Team Online by Gerhard Peters and John T. Woolley, The American Presidency Project https://www.presidency.ucsb.edu/node/298859