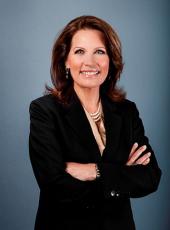 Press Release - Bachmann Announces Growing List of Tea Party Patriot Endorsements; Lowcountry, Midlands, and Upstate Tea Party Chairs
Columbia, S.C. – Republican presidential candidate Michele Bachmann today announced the names of 19 patriots who have joined her South Carolina Tea Party Coalition. These patriots join 37 others leaders who were announced last month.
Bachmann also announced three Tea Party regional chairmen, one from each region of the state, who will join state chairmen Kelly Payne and Javan Browder: Steve Rapchick from Mount Pleasant will serve as the Lowcountry chairman, former Perry supporter Preston Baines from Columbia will serve as the Midlands chairman, and Jonathon Hill from Anderson will serve as the Upstate chairman.
These leaders will help Bachmann rally her already strong Tea Party support in South Carolina.
"I once was a strong Perry supporter. Now, as we move closer to the election, I see that Michele Bachmann's consistent conservative record is what our country needs. We don't need more Washington-insiders or pretend conservatives like Newt Gingrich," Preston Baines of Columbia said.
"We want a leader who has not flip-flopped on the most important issues facing our nation. South Carolinians are not swayed by the political winds and we demand a leader who has been a consistent constitutional conservative. Michele Bachmann is that leader," Steve Rapchick, Leader of the Mount Pleasant 912 Project said.
"I was attracted from the start to Michele Bachmann because she is a fighter. These days, socialism is on the march and we've seen what a decade of good-old-boy Republican and Democrat politics has gotten us," Jonathon Hill of Anderson said. "It isn't enough to have a good voting record anymore—we need fighters. Along with Jim DeMint, Michele Bachmann has been fighting for limited government, individual responsibility, free markets, and traditional values."
The 19 new members of Bachmann's S.C. Tea Party Coalition:
Steve Rapchick, Mount Pleasant
Preston Baines, Columbia
Jonathon Hill, Anderson
Jeff Diemier, Mount Pleasant
Robert Fry, James Island
Lynda Fry, James Island
Jim Hargett, Greenville
Rick Moesser, Fountain Inn
Scott Napier, Greer
Virginia Jelley, Taylors
Harold Blitch, Charleston
Gerald Addision, Berkley
Linda Addison, Berkley
Raye Chapman, Daniel Island
Tom Russo, Jr., Bluffton
Bob Mcewen, Savannah (former Cain supporter)
Austin Jones, Greenville (former Cain supporter)
Shelia Morgan, Hilton Head
Tom Morgan, Hilton Head
Michele Bachmann, Press Release - Bachmann Announces Growing List of Tea Party Patriot Endorsements; Lowcountry, Midlands, and Upstate Tea Party Chairs Online by Gerhard Peters and John T. Woolley, The American Presidency Project https://www.presidency.ucsb.edu/node/298855