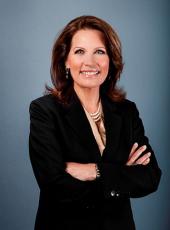 Press Release - Bachmann Announces Congressman Trent Franks as Congressional Co-Chair
Congressman Franks: "I know Michele is right on the issues… and I know she won't back off."
Urbandale, Iowa — The Bachmann for President campaign has announced the appointment of Arizona Congressman Trent Franks (AZ-02) as Congressional Co-Chair. Rep. Franks joins the growing list of endorsements and support for the Bachmann team, not only in Iowa, but also across the country.
"I know Michele is right on the issues that are important to conservatives across the country and I know she won't back off," Rep. Franks said. "I have seen her at work in Washington, standing firm on key issues like Obamacare, the debt ceiling, and TARP."
Congressman Franks is a conservative Reagan Republican, who stands for smaller government by cutting government waste, reducing taxes, bureaucracy, and regulation. He believes in personal responsibility, free enterprise and that government's primary purpose is to protect its innocent citizens. He is an active member of the Republican Study Committee where he chairs the National Security Working Group, is an Executive Committee Member of the Tom Lantos Congressional Human Rights Commission, and is Co-founder and/or Co-chairman of the following: International Religious Freedom caucus, Israel Allies caucus (IAC), Missile Defense caucus, Electromagnetic Pulse (EMP) caucus and the AIDS caucus. Congressman Franks also serves on a host of other groups, including the House Working Group on Judicial Accountability, the House Working Group on Waste, Fraud and Abuse, the Education Freedom Caucus, the Liberty Caucus, the India Caucus and the Anti-Terrorism Caucus.
"Congressman Franks and I have fought together in Washington for smaller government and responsible government spending, and I'm honored to have him on my team," Bachmann said. "He's a respected colleague, and will be invaluable in our work to gain support in Iowa and the early primary states, eventually securing the GOP nomination."
Michele Bachmann, Press Release - Bachmann Announces Congressman Trent Franks as Congressional Co-Chair Online by Gerhard Peters and John T. Woolley, The American Presidency Project https://www.presidency.ucsb.edu/node/298851