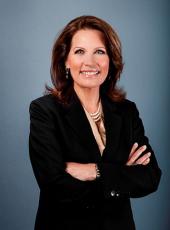 Press Release - Bachmann Adds Finance Veteran James Pollack as National Finance Chairman
Urbandale, Iowa – Republican presidential candidate Michele Bachmann announced today that her team has added another strategic adviser to her growing campaign. James L. Pollack has been appointed as National Finance Chairman to lead the Bachmann for President campaign finance efforts.
"Jim's years of experience in the business and financial industry, as well as his strong Midwestern roots makes him an optimum choice as we expand our campaign in preparation for the upcoming caucuses," Bachmann said. "Jim will be a huge asset to our campaign moving forward as we take our conservative message to Iowa, South Carolina, New Hampshire and beyond."??
Pollack, an experienced, astute and successful business executive, has had a number of significant business investments, primarily in Illinois, Minnesota and Florida. He and his family have been deeply rooted in politics in a bipartisan manner for three generations, resulting in a vast network of business and philanthropic relationships that span to all corners of the country. One of his deepest passions, also shared by Bachmann, is to ascertain the safety and security of our great ally, the State of Israel. ??
"After carefully studying each of the other candidates over the past several months, Michele Bachmann stands out without question as the best candidate in this race to reverse our country's declining economic course, and put us back on the road of economic prosperity and global leadership," said Pollack. "Not only does Michele have the all the special qualities necessary to professionally lead our country, but an intense understanding of the many problems and challenges we now face. Her inert understanding of the tribulations of everyday Americans, and those our country faces as a whole is clearly demonstrated by the fact that she, more than anyone else, spearheaded and brought these issues into center focus on the political agenda.
Pollack continued, "Her immense acumen, experience, and intelligence, combined with her determination, and passion to restore American greatness for our next generation is why it is imperative that she become our next president. I'm honored to join the Bachmann campaign team as we drive forward to victory."
Michele Bachmann, Press Release - Bachmann Adds Finance Veteran James Pollack as National Finance Chairman Online by Gerhard Peters and John T. Woolley, The American Presidency Project https://www.presidency.ucsb.edu/node/298847