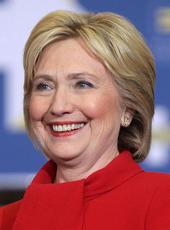 Press Release - Audio: Lieutenant General Discusses Hillary's Plan for Veterans
(COLUMBIA) – Lieutenant General Claudia J. Kennedy, retired, the first and only woman to achieve that rank in the United States Army, discussed Hillary Clinton's support of veterans and military personnel over the July 4 Independence Holiday. Kennedy, who resides in Hilton Head, is a member of the national steering committee of Veterans and Military Retirees for Hillary.
Digital radio actualities for broadcast and other media purposes are available online at http://www.hillaryclinton.com/multimedia/GCK/.
BACKGROUND: Gen. Claudia Kennedy. Claudia J. Kennedy is the first woman to achieve the rank of three-star general in the United States Army, taking her from the Women's Army Corps in the late 1960's to the position of Deputy Chief of Staff for Army Intelligence in 1997-2000. She oversaw policies and operations affecting 45,000 people stationed world wide with a budget of nearly $1 billion.
Following in her father's footsteps, General Kennedy joined the Army in 1968. In 1969, she was commissioned a Second Lieutenant. During her career, she commanded a company, an intelligence battalion, a recruiting battalion and an intelligence brigade. As a general officer, she served as the senior intelligence officer for the U.S. Forces Command, Deputy Commanding General for the Army Intelligence Center and School, completing her career as the Deputy Chief of Staff for Intelligence. General Kennedy received numerous honors and awards during her military career, including the National Intelligence Distinguished Service Medal, the Army Distinguished Service Medal, four Legions of Merits which are awarded for "exceptionally meritorious conduct in the performance of outstanding services and achievements."
Claudia Kennedy has been named to a list of "Best Women Role Models", and Vanity Fair's "Most Influential". She was also named to the Ladies Home Journal's "100 Most Important Women's" List. General Kennedy has been honored for leadership and lifetime achievement by such organizations as Business and Professional Women (USA), Girl Scout Council of Hawaii, Women Executives and State Government, National Women's Law Center, DAR, the National Center for Women and Policy, and the Volunteers of America. General Kennedy has a BA degree in Philosophy from Rhodes College.
Since completing her Army career, Claudia Kennedy has lived in Fairfax County, Virginia, and Hilton Head Island, South Carolina. She is a former chairperson of First Star, a non-profit corporation helping children. Her book, Generally Speaking, was published in September 2001. She is on the Employment Practices Advisory Panel of Wal-Mart and is on the boards of Essex Corporation, Opportunity International, The White House Project, Population Action International, The Third Way, and Intelligent Decisions, Inc. She has appeared as a military consultant for NBC and CNN and as a guest on Larry King Live, Aaron Brown, Wolf Blitzer and ABC's Good Morning America among others. She is married to Harold S. Hadley, a Canadian businessman.
Hillary Clinton, Press Release - Audio: Lieutenant General Discusses Hillary's Plan for Veterans Online by Gerhard Peters and John T. Woolley, The American Presidency Project https://www.presidency.ucsb.edu/node/297272