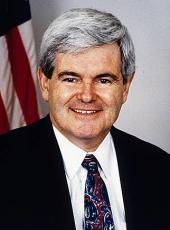 Press Release - Art Laffer Praises Newt's Social Security Reform Plan: "Makes Perfect Sense"
Yesterday at St. Anselm's Institute of Politics in Manchester, NH, Newt outlined his plan to strengthen Social Security by empowering Americans with the option to invest in personal savings accounts. For more information on the plan, read our policy paper entitled "Unleashing Growth and Innovation to Move Beyond the Welfare State."
In an interview on Fox News, former Reagan economic advisor Art Laffer said this about the plan: "I do like it very much, and I think Newt is right on line with this one."
See below for more coverage of Newt's plan to strengthen Social Security for future generations.
Fox News: Gingrich Advocates Social Security Overhaul
Republican presidential candidate Newt Gingrich believes the answer is simple. Allow younger workers to establish optional retirement accounts in place of social security.

"I just want to say to every young person in America, why would you want to have an account where for the next 50 or 60 years some politician is going to tell you whether or not you're going to get your own money back?"

Speaking before a full-house at The New Hampshire Institute of Politics at Saint Anselm College in Goffstown, N.H., Gingrich unveiled a plan that would allow Americans to invest the money they currently contribute to social security in a 401(k) style system that he said will profit far beyond the current program.

"You can put them in very conservative bonds only, you can put them in much more aggressive and have stock only, some mix of stocks and bonds, it will be your choice."

To avoid a disastrous fluctuation in the market wiping out accounts, under the plan those who opt into the system would be guaranteed the minimum Social Security payment. The current system requires employers to match employee contributions, and while individuals would be free to choose where their money goes, companies would still be required to pay their half to the federal government.
CNN: Gingrich unveils plan to change entitlement programs
Republican presidential front-runner Newt Gingrich unveiled his plan to reform what he calls the "welfare empire" and make major overhauls to social programs like Social Security, Medicare and Medicaid.

"There are 185 federal programs that are income-related, that is, that are you know are supposedly helping the poor," Gingrich said St. Anselm College in Manchester. "185. Those programs collectively spend so much money that if you just gave it to the poor, there would be no poor left in America."

...

In his so-called "Growth and Innovation" plan, Gingrich would give Americans the option to invest in personal savings accounts, citing similar models used in Galveston, Texas and Chile as examples.

Gingrich said the current system gives politicians too much power over people's money, arguing his idea of private accounts would take out the middleman and yield higher returns.

"Maybe it's not that Social Security is out of money, the politicians are out of ideas," he said.
ABC News: Gingrich Outlines Social Security Reform, Criticizes Super Committee
Americans should be allowed to select a private retirement account, in which all the money deposited belongs to them, rather than a government-controlled program like Social Security, Republican presidential candidate Newt Gingrich said today.

Speaking at Saint Anselm College's Institute of Politics, Gingrich pointed to Chile and Gavelston, Texas, as having models for personal savings accounts for retirement he would use to overhaul Social Security.

Gingrich said the return on these accounts is twice the amount per dollar compared to a standard Social Security plan. In the Chile model Gingrich referred to, he said each citizen is guaranteed the minimum social security, but in 31 years of the program, no one has needed to access government money.

To push his plan, he said he planned to use a YouTube video of President Obama saying he wasn't sure if he could guarantee checks for the next generation.
Newt Gingrich, Press Release - Art Laffer Praises Newt's Social Security Reform Plan: "Makes Perfect Sense" Online by Gerhard Peters and John T. Woolley, The American Presidency Project https://www.presidency.ucsb.edu/node/298538