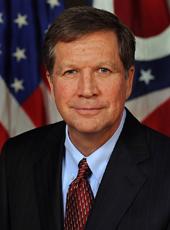 Press Release - Another View — Peter Thomson: Why John Kasich is the Choice for Republicans for 2016
By Peter Thomson: Union Leader
I RECENTLY retired from the State of New Hampshire, where I served nearly 23 years as the coordinator of the Highway Safety Agency. On the morning of my final trip from Orford to Concord, I was speaking to a good friend of mine who was asking me what I was going to do with all my free time. I explained that I was looking forward to traveling, working to expand my maple syrup business, spending time with my nine grandkids and politicking!
Over the last two decades, I have kept a relatively low profile when it came to campaigning on behalf of my favorite candidates, choosing to do more behind-the-scenes work. That is all going to change in this upcoming presidential election, where I plan to do all I can to make sure a Republican is elected to the White House on Nov. 8, 2016. To that end, I am asking my independent friends and fellow Republicans to join me in supporting Ohio Gov. John Kasich in the upcoming Republican presidential primary.
No Republican has ever moved into the White House without having first won the state of Ohio in the general election. Gov. Kasich by far gives us the best chance of winning Ohio, having just been re-elected by a landslide in 2014. When the polls closed that day, he had won 86 of 88 counties, 60 percent of women voters, 26 percent of African-American voters and 57 percent of voters aged 18-29. In fact, very recent polling shows the governor easily beating Hillary Clinton in the Buckeye State; no other Republican candidate can boast that key point.
Beyond the governor's electability, I am choosing to support him because of his impressive track record in Ohio. Many of you know that I served as my father's chief of staff during his time as governor. During that time, I got a firsthand look at the difficulties a chief executive has in running a fiscally responsible state. That is why I am impressed with John's record as a fiscal conservative in Ohio. He quickly eliminated a huge budget shortfall without raising any taxes; in fact he cut taxes, most notably he eliminated the dreaded death tax and cut the income tax and small business tax.
I know how difficult it is to balance the need to cut taxes to spur economic growth with the need to provide basic government services such as education and a safe transportation infrastructure system. The safety of our highways is near and dear to me, having spent most of my career trying to keep New Hampshire drivers safe, but I know safe highways go beyond driver's education and DUI checkpoints: Our roads and bridges need to be maintained. Gov. Kasich embraced an innovative and tax-free approach to generate $3 billion to upgrade Ohio's vital highway and bridge network. When it comes to education, John enacted a comprehensive education reform agenda that set higher standards for student achievement with a new Third Grade Reading Guarantee and improved school accountability.
It was during a brief water break one hot summer day when we were planting corn that my father told me he was going to run for governor. I thought perhaps the sun had gotten to him, but he was serious. That evening he called some of the family together and announced that he was going to run, taking a hiatus from his successful law book publishing company and his beloved farm to do what he referred to as his duty.
I find Gov. Kasich's decision to run for President similar to my Dad's decision: not something to do to cap off an impressive career, but instead answering the call from above. He is already the most qualified and experienced candidate in the Republican field, having served 18 years as a member of congress, 10 years in the private financial sector, and now more than four years as the very successful governor of the country's seventh-largest state. He doesn't need to be President, but he feels that the country is in need of strong, principled leadership. I, for one, feel that he is the candidate best suited to restore the American dream for us all and would ask you to join me in supporting Gov. Kasich for President.
Peter Thomson is owner of Mt. Cube Farm in Orford. He is the son and former chief of staff to former New Hampshire Gov. Meldrim Thomson.
John Kasich, Press Release - Another View — Peter Thomson: Why John Kasich is the Choice for Republicans for 2016 Online by Gerhard Peters and John T. Woolley, The American Presidency Project https://www.presidency.ucsb.edu/node/313513