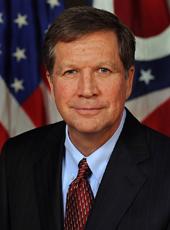 Press Release - Another Poll Shows John Kasich Securely in 2nd Place in New Hampshire
In the eighth poll this month, John Kasich is firmly in second place among likely New Hampshire voters.
The poll results released today by American Research Group show Kasich winning 17% of the overall vote, up from 14% at the beginning of January, 5 percentage points ahead of Ted Cruz and 9 points ahead of Jeb Bush.
See the poll results here: American Research Group.
Today's poll is the eighth since January 7 showing Kasich running second in New Hampshire:
• WBUR, Jan 21: Trump 26%, Kasich 15%, Cruz 15%, Bush 10%, Rubio 7%,
• OANN/Gravis Marketing: Jan 15-18: Trump 35%, Kasich 15%, Cruz 10%, Rubio 9%, Christie 8%, Bush 7%
• American Research Group, Jan 15-18: Trump 27%, Kasich 20%, Rubio 10%, Cruz/Christie 9%, Bush 8%
• Overtime Politics, Jan 14: Trump 30%, Kasich 15%, Rubio 13%, Christie 9%, Cruz 9%, Bush 6%
• Monmouth, Jan. 7-10: Trump 32%, Kasich/Cruz 14%, Rubio 12%, Christie 8%, Fiorina 5%, Bush/Paul 4%
• American Research Group, Jan 7-10, Trump 25%, Kasich/Rubio 14%, Christie 10%, Bush 8%, Cruz 9%
• NH1, Jan 9: Trump 32%, Kasich/Bush 12%, Christie 11%, Cruz 10%, Rubio 9%
John Kasich, Press Release - Another Poll Shows John Kasich Securely in 2nd Place in New Hampshire Online by Gerhard Peters and John T. Woolley, The American Presidency Project https://www.presidency.ucsb.edu/node/313511