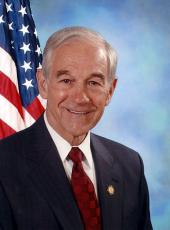 Press Release - Another Dubuque Tea Party Co-Founder Endorses Ron Paul
Michael Heeren joins Jeff Luecke in boosting Paul on eve of Dubuque Tea Party straw poll
ANKENY, Iowa — 2012 Republican Presidential candidate Ron Paul received the endorsement of a second Dubuque Tea Party co-founder on the eve of the grassroots organization's first in-person-voting 2012 presidential straw poll.

Michael Heeren, a co-founder of the Dubuque Tea Party, commended Paul on his adherence to tea party values and endorsed him for the presidency.
"Ron Paul is a champion of the Constitution and has dedicated much of his life to restoring the United States by following the three core principles that we prescribe to in the Dubuque Tea Party. Dr. Paul believes in fiscal responsibility, free markets and a Constitutionally-limited government. Since 1976 in the U.S. House of Representatives, every single vote he has made, without exception, can be traced to these principles," said Mr. Heeren.
"Ron Paul is the most consistent candidate and he can restore America to her greatness. I endorse Ron Paul for President of the United States.," said Mr. Heeren, who lives in Dubuque and also is a Dubuque County Republican Central Committee Member.
When asked whether he was wanted to make clear he was speaking as a private citizen and not as one associated with the Dubuque Tea Party, Mr. Heeren replied, "No, I just want America back on track."
In addition, a Dubuque Tea Party organizer who already publicly supported Dr. Paul came forward to reiterate his pro-Paul stance, citing the 12-term Texas Congressman's economic policies and integrity. Jeff Luecke — who endorsed Dr. Paul on June 13, 2011 — felt it appropriate to reiterate his support on the eve of the Dubuque Tea Party straw poll.
"As an individual who helped organize and lead the Dubuque Tea Party I personally endorse Texas Congressman Ron Paul as the Republican nominee for President of the United States," said Mr. Luecke of Oelwein.
"Ron Paul is the only candidate in the race who fully and consistently embraces the Tea Party movement's three core principles of a return to Constitutionally-limited government, fiscal responsibility and free markets. While other candidates conveniently talk about the Constitution, only Ron Paul lives it with every vote he casts in Congress. Ron Paul understands and even predicted the monetary collapse coming our way. He's the only candidate willing to fix the problem rather than just pay lip service with cleverly-named gimmicks," said Mr. Luecke.
Enrolled in the Republican Party, Mr. Luecke is one of the original co-organizers of the Dubuque Tea Party and currently serves as a precinct captain for the Ron Paul 2012 presidential campaign. He is affirming his support for Dr. Paul from the standpoint of a private individual and not on behalf of the Dubuque Tea Party.
The Dubuque Tea Party was founded in April 2009 and today it has approximately 500 members. The first in-person Dubuque Tea Party straw poll will be held the evening of Thursday, December 1st at The Symposium Room of the Dubuque Best Western Plus, located at 3100 Dodge Street, Dubuque, Iowa 52003. The Dubuque Tea Party in conjunction with Freedom Jamboree conducted the Dubuque Tea Party 2012 Presidential Straw Poll from August 25th through September 17th, and Ron Paul won it decisively. Full results are as follows.
Ron Paul — 42.9%

Rick Perry — 26.2%

Herman Cain — 11.9%

Michelle Bachmann — 7.1%

Mitt Romney — 7.1%

Newt Gingrich — 2.4%

Rick Santorum — 2.4%.

Jon Huntsman, Jr.*

Buddy Roemer*

Gary Johnson*

Thaddeus McCotter*
*= 0 votes.
Ron Paul, Press Release - Another Dubuque Tea Party Co-Founder Endorses Ron Paul Online by Gerhard Peters and John T. Woolley, The American Presidency Project https://www.presidency.ucsb.edu/node/299263