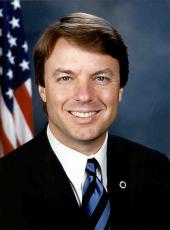 Press Release - Americans Continue To Answer Edwards' Call To 'Support The Troops, End The War'
Chapel Hill, North Carolina – Senator John Edwards' new effort to support our troops and end the war in Iraq continues to grow as thousands of Americans from across the country visit www.supportthetroopsendthewar.com and plan activities this Memorial Day weekend to honor the fallen, support our troops and call for an end to the war in Iraq. The website allows people to find events happening in their communities and now features a new interactive map identifying events in every region of the country.
Among the events being planned for Memorial Day weekend is a Raeford, North Carolina prayer vigil by a woman whose husband is serving in Iraq. This woman wrote, "My husband is in Iraq, and I pray each and every day for the Troops and that maybe someday soon there will be an end to this war. Please join me in praying for my husband and all the troops that are deployed throughout the world."
Many people are organizing letter writing campaigns to local their representatives, including a Cleves, Ohio woman whose father is a World War II veteran and the mother of an Iraq War veteran from Milton, West Virginia. Americans in numerous states are sending care packages to the troops, and one family in Greensboro, North Carolina has volunteered to help ensure that a veteran who just had a stroke receives the proper care.
A woman from Northern California wrote in support of the effort, "I am writing to you in the hopes that my words will make a difference as well as to remind people of what this war is actually costing us. My name is Michele [G.] and my brother was SFC Isaac [L.] ... As the anniversary of his death approaches, and as I see President Bush preparing to veto a bill that will start the process of bring our troops home, I felt compelled to speak... I hope that this is published in every paper in this country, so that our President may know what the true cost of this war is. And if he should decide to veto, then he should hear our cries, he should know how we mourn, grieve and wail."
William Edwards, an Iraq War veteran from Arlington, Virginia wrote to the campaign, "This Memorial Day weekend, I urge everyone to support John Edwards's call to reclaim patriotism through action. Make a small sacrifice of your time or money in honor of the ultimate sacrifice that many thousands of our servicemembers have made for us."
"As a Navy Veteran and the proud granddaughter of a WWII Navy Veteran I can think of nothing to do that is more patriotic than to voice my support of our troops and ask for the end of the war in Iraq," a veteran from Henderson, Nevada wrote to supportthetroopsendthewar.com.
On his blog, BobGeiger.com, Vietnam veteran Bob Geiger wrote, "And the former Democratic Senator from North Carolina is absolutely right in suggesting that the best way to support the troops is to remove them from the Iraqi civil war. While John Edwards is expressing the sentiments of the vast majority of the American people, he is also speaking from his own heart about the sorrow he feels for the most recent of those we honor on Memorial Day and making the very patriotic suggestion that we all get out there and do something about it."
A veteran living in Louisville, Kentucky wrote a diary on DailyKos supporting Edwards' effort to honor our fallen troops and support our troops serving overseas by urging our government to support our troops in the most important way it can - by ending this war and bringing them home.
In the days leading up to Memorial Day, Edwards is asking Americans to take action to support our troops, end the war and bring them home to the hero's welcome they deserve. This includes sending the troops care packages or thank you notes, holding prayer vigils and making signs of support. On Memorial Day, Edwards is asking Americans to honor and remember all those who have paid the ultimate sacrifice for our freedom. On the website, Americans can get ideas on how they can support our troops and end the war this Memorial Day weekend and plan their own activities. Nearly 170 Memorial Day weekend events have already planned in nearly 30 states.
John Edwards, Press Release - Americans Continue To Answer Edwards' Call To 'Support The Troops, End The War' Online by Gerhard Peters and John T. Woolley, The American Presidency Project https://www.presidency.ucsb.edu/node/294311