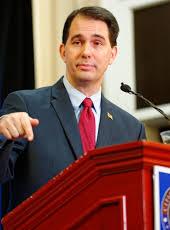 Press Release - American Workers Need the Right Leadership in Washington
When I think about New Hampshire, the very first word that comes to mind is "freedom."
"Live Free or Die" is a lot more than just the New Hampshire state motto - it's a bedrock American principle as solid as the granite of the Presidential Range.
I like to celebrate and honor freedom at every opportunity, and Labor Day is yet another chance to do so.
In New Hampshire - and everywhere I visit across America - people tell me they are upset with Washington.
Our nation's capital is broken - and we cannot expect those from Washington to fix Washington. The only thing that can change the culture of failure and doing nothing is electing someone from outside of D.C. to clean things up.
After I became governor of Wisconsin, we took on the union bosses and won. Even in the face of death threats, 100,000 protestors and relentless attacks from the opposition, we stayed the course, implementing commonsense, fair reforms that took power from the big-government union bosses and put it firmly into the hands of the people. That's pro-taxpayer.
We reformed our union collective bargaining agreements so we could pay our bills and send money back to the people. We passed Right to Work reforms in Wisconsin so workers have the freedom to choose whether to join a union. That's pro-worker.
Our budgets cut taxes by $4.7 billion so workers and their families have the freedom to save and invest more of their hard-earned money for themselves. We fixed a $3.6 billion budget deficit so we could focus on helping people create more jobs and higher wages.
And so this Labor Day, I want to honor all the men and women across our great land - and particularly our men and women in uniform across the world - who get up every morning to support themselves, their families, their communities and a grateful nation.
Hard work - and the very act of labor - is a principle that must always be celebrated and honored. Our workforce is the best in the world, and America can out compete and out produce any nation in the world.
But to truly grow the economy, we need to get the federal government out of the way. To do that, we need a new president who can wreak havoc on Washington - someone who has taken on the Washington-based special interests.
We fought and won. We got results and did it without compromising conservative principles. That's what we need out of the next president: someone who will fight and win for America's hard-working families. I will fight and win for you and your family.
Scott Walker, Press Release - American Workers Need the Right Leadership in Washington Online by Gerhard Peters and John T. Woolley, The American Presidency Project https://www.presidency.ucsb.edu/node/311903