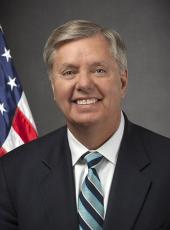 Press Release - An American Upbringing
"Now He's Ready To Take Those Leadership Skills To The White House"
Following today's announcement of his presidential campaign, Senator Lindsey Graham released the following web video, entitled "An American Upbringing." The video highlights his life experiences, expertise in foreign policy and describes how his background makes him uniquely qualified to be Commander-in-Chief on day one.
VIDEO SCRIPT:
"Some men are born leaders, others are tested, refined and forged through life's experiences.
"Lindsey Graham is both.
"Lindsey was born the son of a blue-collar family in the small town of Central in upstate South Carolina. His parents worked long hours to eke out a modest living running a tiny restaurant and liquor store.
"From a young age, Lindsey learned about hard work and the value of a dollar. Like small business owners everywhere, if Lindsey's parents didn't open the doors each day, they didn't get paid — there were no sick days, and very few vacations. It was here that Lindsey learned to pull his own weight - both by helping with the business, and helping raise his younger sister, Darline.
"Lindsey Graham was the first in his family to go to college. But, while attending the University of South Carolina, both of his parents tragically passed away.
"While most young men his age were enjoying campus life, Lindsey took on the added responsibility of traveling home weekends to work in the family business and help care for Darline. With his parents gone, Lindsey was committed to providing for his sister. He took that commitment a step further by legally adopting her when she was in high school and with the help of a loving aunt and uncle, Lindsey made sure she not only finished high school but earned her college degree.
"Despite these challenges and adversity, the work ethic he learned from his parents paid off; Lindsey graduated from USC with both a bachelor and law degree.
"Following law school, Graham joined the Air Force. After 6 and a half years on active duty as a JAG officer, he joined the South Carolina Air National Guard and served stateside during the first Gulf War. Graham wore the uniform for 33 years, retiring this year as a Colonel with the Air Force Reserves.
"First elected to the House of Representatives in 1994 and the Senate in 2002, Lindsey Graham has become the go-to-guy on Capitol Hill for national security and foreign policy issues, in part because of his military experience.
"He has served as a reserve duty officer in Iraq and Afghanistan and has been to the Middle East more than 20 times, gaining first-hand knowledge about ISIS, the Taliban and other terror groups that threaten our way of life.
"Because of his expertise on foreign policy issues, Lindsey Graham has been an outspoken critic of President Obama's failed foreign policy. His knowledge and experience makes him uniquely qualified to correct the mistakes of the past while providing the steady leadership and decision-making skills we need to keep America safe.
"A respected problem solver, Lindsey Graham is a true conservative who's willing to tackle any issue head on - whether it's fighting for the American taxpayer or protecting and defending our constitutional rights.
"Blue-collar upbringing, tireless work ethic, allegiance to family values, and a lifetime of military service, Lindsey Graham has lived the American dream - from sleeping in the backroom of a tiny restaurant to becoming a respected leader in the United States Senate. Now he is ready to take those leadership skills to the White House, to restore faith in America's exceptionalism, and our belief that the United States is still the leader... and best hope... for a free and safe world."
Lindsey Graham, Press Release - An American Upbringing Online by Gerhard Peters and John T. Woolley, The American Presidency Project https://www.presidency.ucsb.edu/node/312556