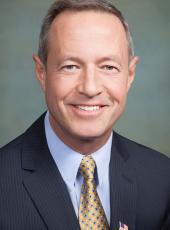 Press Release - America Succeeds When Women and Families Succeed
I am lucky to have spent my life surrounded by strong women.
My mother, Barbara O'Malley — or "Mrs. O" as generations of congressmen and Hill staffers know her — has been U.S. Senator Barbara Mikulski's receptionist and gatekeeper for more than 30 years. At 87 she still keeps the Senate office in line, which is no surprise: her first job was at the age of 17, flying in the Civil Air Patrol during the Second World War.
She raised her six children to believe that every generation of Americans has the ability — and the sacred responsibility — to become great.
These are the lessons that my wife Katie and I have passed on to our own kids. And we are so proud of my daughters Tara and Grace O'Malley for their hard work and service to their country, at the United Nations Foundation and as a first-grade public school teacher at Baltimore City's Walter P. Carter Elementary.
So there is no doubt in my mind that my daughters will continue to strive to better this nation and follow their dreams. And I want both of them — and all the other young women of their generation — to have equal rights and opportunities at work, and to be paid every penny in wages of what they deserve.
That's why, under an O'Malley Administration, closing the gender pay gap would be one of the most important goals of the federal government — one that I've included in my 15 Goals to Rebuild the American dream. These national goals would guide my administration, day in and day out, as we build an economy that works for all of our children.
To get there, we need a clear, measurable road map for action. And because today in America women can be paid less than men essentially without penalty, the first step must be taking pay discrimination head on.
We can do this in several ways: by holding employers who do discriminate accountable, preventing retaliation against women who speak up, and empowering women to find out whether they are paid unfairly and to do something about it. This includes making pay data publicly available by sex, race, and ethnicity, so that all employees can see that they're making a fair wage for their job.
But curbing pay discrimination alone is not enough. Part of the reason women are paid less than men for doing the same work is that many are forced to leave the workforce in order to raise their families, or penalized for doing so. Only 12 percent of American workers have access to paid leave, and 40 percent can lose their jobs for taking even unpaid leave to care for a newborn child. What's more, child care costs more than public university tuition in a majority of states — putting quality care out of reach for many families, and forcing some parents who'd like to work to stay home.
If women decide to have families, they shouldn't have to choose between their career and taking care of their children. All parents — both men and women, gay or straight, married or single — should be able to take at least 12 weeks of leave, with pay, in order to care for newborn children or other loved ones. And no family — especially low- and middle-income families — should have to pay more than 10 percent of their income on safe, affordable child care in a given year.
Finally, we must lift wages for all workers, starting with increasing the minimum wage, to $15 an hour. Two-thirds of minimum wage workers today are women, and each and every one of them deserves a raise.
The good news is that solutions are on the table. Congress has brought the Paycheck Fairness Act to a vote, four times. Democrats have proposed the FAMILY Act, to give all workers access to family and medical leave. President Barack Obama has called for expanding child care subsidies, and we should go even farther so that every family that needs assistance receives it. Fast food workers and others are winning critical victories in the Fight for 15.
But it's long past for time for action — not just words.
In Maryland, we didn't just talk about creating economic opportunity for women. When I was Governor, we actually got things done. We expanded access to parental leave, and to quality pre-K education. We raised our state's minimum wage, and passed the nation's first living wage. We put our own Lilly Ledbetter Act in place to help protect women from pay discrimination. And we set, met, and exceeded one of the most ambitious goals in the country for directing state contract dollars to minority and women-owned businesses.
As a result of our better choices and investments, we made Maryland the best state in the nation for women's economic opportunity and security — with a higher concentration of women-owned businesses than any other state, and the lowest gender pay gap in the country.
And as a nation, we can do the same. Progress is a choice. For our daughters and all of our children, we must choose a future of more opportunity — including the full and equal compensation their hard work deserves.
Martin O'Malley, Press Release - America Succeeds When Women and Families Succeed Online by Gerhard Peters and John T. Woolley, The American Presidency Project https://www.presidency.ucsb.edu/node/313433