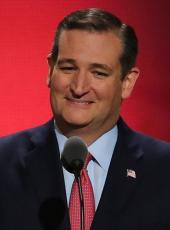 Press Release - African American Conservatives Unite Behind Sen. Ted Cruz for President
HOUSTON, Texas – Presidential Candidate U.S. Sen. Ted Cruz, R-Texas, today announced statewide leaders for the Cruz for President African-American coalition, including Elbert Guillory, Robin Armstrong, and Bishop Robert Smith as National Co-Chairs.
"Today I'm pleased to announce a strong group of men and women from diverse backgrounds to lead our African-American coalition," said Sen. Cruz. "These individuals are leaders in the areas of education, healthcare, faith, and governance, and can speak to how the policies of the current Administration disproportionately harm minorities in this country. Rather than politicizing race as this President has done, we seek to unify Americans around our common values of liberty, equality, and opportunity."
Elbert Guillory represents District 24 of the Louisiana State Senate. Guillory spent 43 years as a criminal defense lawyer, and served in the Louisiana House of Representatives and the Louisiana Senate. He was "Legislator of the Year" twice in his first six years and was elected to the Louisiana Justice Hall of Fame for his work in law and government.
Robin Armstrong is a physician practicing medicine in Texas. He is also the former Vice Chairman of the Republican Party of Texas, serving from 2006 to 2010, and is currently a Republican national Committeeman. Robin has worked as an election judge, precinct chairman, city chair, Senatorial District Convention Chair, and delegate to the 2008 and 2012Republican National Convention. He has served as a member of the State Republican Executive Committee. He has served locally in youth and inner city missions and is active with charitable organizations nationally and overseas.
Bishop Robert Smith is the Founder of Total Outreach for Christ Ministries, Inc. and Word of Outreach Christian Center and Academy, which is headquartered in Little Rock, Arkansas. He has released multiple books on Evangelical Outreach and Faith and has served as a guest speaker for many college seminary courses.
The African American Coalition has nine State Level Leaders across the country as well:
Glen Robinson, SC

Glen is a Pastor and Christian television show host.
Nse Ekpo, SC

Nse serves as the 2nd Vice Chairman of the South Carolina GOP.
Darrell C. Porter, NV

Darrell Porter is a non-denominational, full gospel evangelist. He is the Founder and Director of the Ichthus Institute for Enrichment & Christian Development and pastors the New Covenant International Ministries as he continues to work with local, national and international Bible-based, Christ-centered ministries in spreading the Gospel of Jesus Christ.
Troy Towns, AL

Troy is the Senior Vice Chairman of the Alabama GOP. Troy is a small businessman and often speaks at churches, civic meetings and political events.
Calvin Morrow, MO

Morrow is a homeschool father and the President of the Lebanon Area Homeschoolers. He is the founder of Christians Uniting for Political Action, mobilizing Christians to re-engage in the political process.
Zina Hackworth, MO

Zina is a member of L.E.A.R.N, the nation's largest black Pro-Life organization. She is also a member of The National Black Pro-Life Coalition. In 2006, Zina founded This Race Will Self-Destruct and More Rebellious Members, a Pro-Life outreach to black pastors.
Henry Childs, TX

Henry is the elected State Republican Executive Committeeman for Texas Senate District 19. Childs serves as the Texas Surrogate for the RNC African American Strategic Initiatives Director. He is the Founder/Chairman of the Association of Conservative Texans
Brenda Battle Jordan, MI

Brenda is an active member of the Genesee County Tea Party and Genesse County Republican Executive Committee. She also serves on The Resolutions and Bylaws Committee Of The Michigan Association of School Board of Director's and is a Westwood Heights school board trustee. She has been on multiple talk shows and spoken at multiple county Tea Party events.
Ken Jordan, MI

Ken is a long time Genesse County Republican Executive Committee member.
Ted Cruz, Press Release - African American Conservatives Unite Behind Sen. Ted Cruz for President Online by Gerhard Peters and John T. Woolley, The American Presidency Project https://www.presidency.ucsb.edu/node/315318