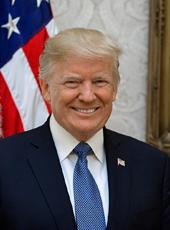 Press Release - Administration Presents President Trump's Fiscal Year 2020 Budget Request
On Monday, March 11, White House Office of Management and Budget Acting Director Russ Vought will release the President's Fiscal Year 2020 Budget of the United States Government. "A Budget for a Better America: Promises Kept. Taxpayers First." outlines this Administration's key funding priorities, which include addressing wasteful Washington spending, strengthening our southern border, promoting a healthy American economy, and maintaining a strong national defense.
"In the last two years, President Trump and this Administration have prioritized reining in reckless Washington spending. The Budget that we have presented to Congress and the American people, "A Budget for a Better America," embodies fiscal responsibility, and takes aim at Washington's waste, fraud, and abuse," said Acting Director Vought. "Our national debt nearly doubled under the previous Administration and now stands at more than $22 trillion. This Budget shows that we can return to fiscal sanity without halting our economic resurgence while continuing to invest in critical priorities. President Trump's Budget for 2020 will balance in 15 years, end runaway spending, and secure prosperity for future generations."

***

A Budget for a Better America: Promises Kept. Taxpayers First.
Curbs Wasteful Washington Spending. Overall, this Budget includes $2.7 trillion in spending cuts—higher than any other administration in history. As part of these cuts, the Budget meets the President's directive to reduce nondefense programmatic spending by 5 percent below the higher 2019 cap level. Long term policy projections indicate that the proposals in this Budget would put us on track to reach balance by 2034. This is a clear roadmap for a more fiscally responsible future if Congress chooses to follow it.
Strengthening Border Security and Immigration Enforcement. The crisis at our southern border has strained Federal resources and overwhelmed agencies charged with border security and immigration enforcement. The Federal Government must employ all lawful means to enforce the immigration laws of the United States and reduce the flow of illegal aliens and illegal drugs into the country. The Budget requests the resources necessary to continue constructing physical barriers on the border, increases the manpower of ICE and CBP, and proposes policy changes to end sanctuary cities.
Provides for a Robust and Rebuilt National Defense. The Government's fundamental responsibility is to protect the American people, the homeland, and the American way of life. While America possesses enduring national strengths, we face an era of increased strategic competition, global challenges, and erosion of the U.S. comparative military advantage. In order to preserve peace through strength, the Budget provides for increased end strength, bolsters our global force posture, and invests in the capabilities and domains critical to future conflicts, like space, artificial intelligence, and hypersonics.
Combatting the Opioid Epidemic. The Nation is starting to see progress in its efforts to address the drug abuse and opioid crisis. The number of opioid prescriptions dispensed monthly has fallen by more than 20 percent since the beginning of 2017 and preliminary data from CDC suggests that the number of drug overdose deaths are finally starting to level off or even decline. But the fight to end this devastating epidemic is not over. This Budget continues to invest in prevention, treatment, research, and recovery.
Investing in America's Students. The Budget takes steps to ensure that Americans can receive the high-quality education and training they need to obtain a job and advance in their careers. The Budget proposes to hold institutions of higher education accountable for results by requiring colleges and universities to share a portion of the financial responsibility associated with Federal student loans to encourage them to improve performance.
Reorganization to Modernize Government for the 21st Century. In today's digital age, the Federal Government continues to operate under outdated technology and antiquated processes, which frustrates the American people and the Federal workforce. Last year, the Administration issued a bipartisan strategy on how the Executive Branch can function more efficiently and effectively in the 21st Century. Through IT modernization initiatives as well as efforts to build a modern workforce, the Budget will create new platforms for delivering services to the American people.
Care for our Veterans. Few deserve our Nation's care and resources more than the veterans who have sacrificed their lives to keep our country safe. The President's Budget invests over $80 billion to ensure our veterans receive world class healthcare; a nearly a 10 percent increase from FY 2019 levels. In addition, the President's FY2020 Budget makes significant investments in veteran rehabilitation services, education and employment assistance, and suicide prevention. All of these resources are necessary for our Nation's heroes to be repaid for their sacrifices.
The President's Fiscal Year 2020 Budget will be available on OMB.gov/Budget.
Donald J. Trump, Press Release - Administration Presents President Trump's Fiscal Year 2020 Budget Request Online by Gerhard Peters and John T. Woolley, The American Presidency Project https://www.presidency.ucsb.edu/node/334713