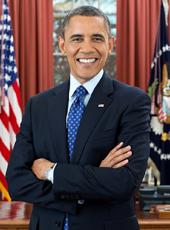 Press Release: Additions to Legislative Affairs Team
Washington—President-elect Barack Obama today announced eleven additions to his legislative affairs team, naming Lisa Konwinski as Deputy Director for Legislative Affairs and ten additional staff members with strong ties to Capitol Hill. The new appointments will assist the President-elect, the Vice President-elect and their policy teams in continuing close collaboration with congressional leaders from both parties. The President-elect had previously named Phil Schiliro as Director of Legislative Affairs, Dan Turton as Deputy Director for the U.S. House of Representatives, and Shawn Maher as Deputy Director for the U.S. Senate.
"With such great challenges facing the country, it's going to be essential to work closely with Capitol Hill to advance an agenda that turns this economy around, puts Americans back to work, and safeguards our national security. The new legislative affairs team members announced today will help to carry that mission forward—and ensure that the voices of congressional leaders and their constituents are being heard in the White House," President-elect Obama said.
The following legislative affairs staff members were named today:
Lisa Konwinski, Deputy Director of Legislative Affairs

Lisa Konwinski joins the White House from the United States Senate, where she served for over 11 years as General Counsel to the Senate Budget Committee, most recently under Chairman Kent Conrad (D-ND), specializing in the Congressional budget process and Senate floor procedure. She previously worked in the House of Representatives, as Counsel and Rules Committee Associate to Congresswoman Louise Slaughter (D-NY) and, prior to that, as a Senior Legislative Assistant to Representative Marcy Kaptur (D-OH). Before serving on Capitol Hill, Konwinski was an attorney with the law firm of Moore & Van Allen in Charlotte, North Carolina. A native of Lansing, Michigan, she received her B.A. with honors in political science from the University of Michigan's College of Literature, Science, and the Arts, and her law degree from the University of Michigan Law School.
Jay Heimbach

Jay Heimbach currently serves as Chief of Staff to Senator Sherrod Brown (D-OH). His professional experiences include two separate jobs at the White House under President Clinton, serving in the Office of Legislative Affairs and as Policy Advisor to the Deputy Chief of Staff. Heimbach also served as an advisor to the Chairman of the FCC and legal advisor to the Cable Services Bureau at the FCC. He has been active in numerous Senate and Presidential campaigns. Heimbach is a graduate of Colby College in Maine and the Boston University School of Law, and is a member of the Massachusetts State Bar. He lives with his wife Deasy and two daughters in Alexandria, VA.
Christopher Kang

Christopher Kang is Director of Floor Operations for U.S. Senate Assistant Majority Leader Richard Durbin (D-IL). For almost four years, he has been the lead floor staff for Senator Durbin, negotiating floor consideration of legislation, strategizing parliamentary tactics, and conducting whip counts. In addition, he has been a central hub of information and advice on pending legislation for the entire Democratic caucus. Prior to that position, he was Judiciary Committee Counsel for Senator Durbin, covering constitutional, criminal justice, and labor issues. Kang is also Vice President for Community Affairs of the Asian Pacific American Bar Association of Washington, DC. He is a graduate of the University of Chicago and Duke University School of Law.
Sean Kennedy

Sean Kennedy began his career on Capitol Hill with then-House Minority Leader Dick Gephardt (D-MO), for whom he served for nine years, including roles as Legislative Director, advisor on each of his reelection campaigns, and chief liaison between the Leader's District and Leadership offices. Kennedy moved to the Senate in 2007 to serve as the first Chief of Staff for Senator Claire McCaskill, where he also facilitated her active involvement in the Obama campaign. He is a graduate of Emory University and Catholic University School of Law.
Jim Oleske

Jim Oleske served as Chief of Staff in the Oregon Senate Majority Office during the 2007 and 2008 legislative sessions. Earlier in his career, he served as a Counsel in the Office of U.S. Senate Democratic Leader Tom Daschle (D-SD); an appellate attorney with the National Labor Relations Board; and a law clerk for the U.S. Court of Appeals for the Third Circuit. Oleske is a graduate of Georgetown University Law Center and Middlebury College.
Jim Papa

Jim Papa began his career working for former Senate Minority Leader Tom Daschle (D-SD) in the Senate Democratic Technology and Communications Committee. He moved to the House in 1998 to become Communications Director for Rep. Rosa DeLauro (CT-03), and later served as Staff Director of the Office of the Assistant to the Democratic Leader. He has also served as Chief of Staff to Rep. Rush Holt (NJ-12) and, in 2007, he was asked to serve as Director of Member Services under former House Democratic Caucus Chairman Rahm Emanuel. In that position, Papa worked extensively with Representatives elected in 2006 to assist them in the development and execution of their legislative, communications, and constituent service objectives. Jim has a B.S. from Cornell University and a J.D. from Georgetown Law. He lives in Alexandria, VA, with his wife, Katie, and their daughter, Sophia.
Alejandro Pérez

Alejandro Pérez has served as Floor Director for House Majority Leader Steny H. Hoyer (D-MD) since February 2008. In that role, he assists the Majority Leader in setting, coordinating, and implementing the legislative agenda for the House. He also advises the Majority Leader in policy matters and serves as a liaison to Members of Congress and targeted constituency groups. Pérez has previously served as Deputy Floor Director for the Majority Leader, and has been working with Rep. Hoyer since 2003. Pérez has also served as the Executive Director of the Congressional Hispanic Caucus, and Hispanic Business magazine named him one the Nation's "100 Most Influential Hispanics" in 2007. Pérez received a Bachelor of Arts degree in Government from the University of Texas-Austin, and a Masters of Arts degree in International Relations from the Maxwell School of Citizenship, Syracuse University. Pérez and his wife, Naomi Barry-Pérez, a civil rights lawyer, have one son.
Jonathan Samuels

Jonathan Samuels is the Acting Floor Director to U.S. House Majority Whip Jim Clyburn (D-SC), where he works with the Whip, the House Leadership and the entire Democratic Caucus to ensure passage of the Democratic agenda in the House. Samuels took leave from the Whip's office in 2008 to assume the role of Southern Regional Director for Obama for America, overseeing the Obama campaign's operations in ten states, including the key battlegrounds of Virginia, North Carolina and Florida. Samuels began his political career with Chief Deputy Democratic Whip Jan Schakowsky (D-IL). During his more than nine years on her staff, he served as Deputy Chief of Staff, Floor Assistant, Legislative Director, and Communications Director to Schakowsky. He has worked on numerous winning Democratic campaigns, including the Obama for Illinois U.S. Senate Primary in 2004. Prior to his start in politics, Samuels spent several years in leadership positions at the McGaw YMCA and Camp Echo in his home town of Evanston, Illinois, where he focused on youth and community development.
Shelly O'Neill Stoneman

Shelly O'Neill Stoneman is the Deputy Chief of Staff for Congressman Steve Rothman (D-NJ) and has served in his office since 2003. She directs his legislative agenda and staffs him on the House Appropriations Committee's Subcommittee on State and Foreign Operations, as well as the Subcommittee on Defense. Previously, Stoneman worked as a Research Consultant for the Small Arms Survey, evaluating the arms export control systems of Central, Eastern, and Southeastern European (CESEE) countries. She also worked for the U.S. Senate Governmental Affairs Committee's Subcommittee on International Security, Proliferation, and Federal Services under Senator Daniel Akaka (D-HI). Stoneman earned her Bachelor's degree from Vassar College and has a Master of Arts in National Security Studies from the U.S. Naval War College, as well as a Master of Arts in International Relations from the University of Oklahoma's Program in Europe.
Louisa Terrell

Louisa Terrell spent five years as counsel for Senator Joseph R. Biden, Jr. on his Senate Judiciary Committee staff where she handled criminal law issues, immigration policy, and women's issues. From 2006 to 2008, Louisa served as the senator's Deputy Chief of Staff. She was a Senior Director at Yahoo!, Inc. before joining the presidential transition team. Raised in Wilmington, DE, Louisa earned her bachelor's degree at Tufts University (1991) and her law degree at Boston College Law School (1995). After graduation, Louisa clerked for a federal district judge in Providence, Rhode Island and then returned to Boston. After several years as a law firm associate, Louisa joined the Civil Rights Division of the Massachusetts Attorney General's Office before moving to Washington, DC in 2001.
Denise Wilson

Denise Wilson served for over 10 years as a Professional Staff Member for the House Oversight and Government Reform Committee under the leadership of former Chairman and Ranking Member Henry A. Waxman (D-CA). Wilson's areas of expertise included postal reform and federal workforce issues. She has also worked in various capacities for former Representatives Cardiss Collins (D-IL) on the House Government Operations Committee; William "Bill" Clay Sr. (D-MO) on the House Post Office and Civil Service Committee; Herman Badillo (D-NY); and James Symington (D-MO). Wilson also worked as manager of Government Relations for Motorola, Inc., in Washington. Wilson holds a B.A. in Political Science from Howard University and is a proud Army brat.
Barack Obama, Press Release: Additions to Legislative Affairs Team Online by Gerhard Peters and John T. Woolley, The American Presidency Project https://www.presidency.ucsb.edu/node/285824