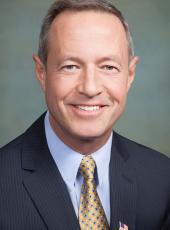 Press Release - Additional Protections for New Americans
BALTIMORE MD — In advance of his visit to Nevada on Sunday to address immigration leaders and as we approach the anniversary of the President's Deferred Action for Parents of Americans and Lawful Permanent Residents and expanded Deferred Action for Childhood Arrivals, Governor O'Malley released the following statement and new proposals:
"Given the hateful and nativist rhetoric dominating the Republican Party, it's incumbent upon Democratic candidates for President to show what exactly they would do to fix our inhumane immigration system. It's all too easy to critique Republican's rhetoric, but what is squarely in our national interest and what New American immigrants need and demand is a clear vision of how we will stand with them.

"This week, Senator Marco Rubio stated unequivocally that he would end the Deferred Action for Childhood Arrivals program and deport DREAMers. The new Speaker of the House, Paul Ryan, also promised not to hold a vote on comprehensive immigration reform despite broad bipartisan support. As Democrats, we are right to decry their words—but we cannot let their race to the bottom impede us from putting forth a detailed and progressive roadmap to make our immigration system more humane and our nation more welcoming to New American immigrants.

"As we approach the November 20th anniversary of the President announcing his Deferred Action for Parents of Americans and Lawful Permanent Residents and expanded Deferred Action for Childhood Arrivals, I urge my fellow Democratic candidates for President to join me in committing to aggressively fight for these reforms in the courts.

"I want to turn the page on the the failed, cautious, poll tested policies of the past and fight to include more people, more fully into the social, political and economic fabric of our country. I will do that by using the full power of the presidency to reaffirm that we're a nation who is made stronger by New American immigrants and that we must keep families and communities together."
Governor O'Malley is the only candidate who has gotten results on immigration reform. His plan to fix our inhumane immigration system has been praised as the most comprehensive and most progressive — setting the standard in the Democratic field. His expanded proposals to fix our inhumane immigration system follow:
1. Protect New Americans who stand up for their rights. Undocumented workers are too often afraid to report health, safety, or labor violations—or join a union—out of fear of retaliation and deportation. This fear makes it easier for employers to economically exploit them, driving down wages for everyone. As President, I will establish an affirmative process for individuals engaged in workplace or civil rights disputes to request deferred action and work authorization.
2. Guarantee farmworker rights and protections. Our nation must provide Farmworkers the opportunity earn lawful permanent resident status, so they can fully exercise their rights and measurably improve their working conditions. As President, I will include farmworkers in my executive actions and work to ensure their equal rights under our labor laws.
3. Immediately release women and children being held in detention. This week we learned that the Central American Minors program has, due to administrative and logistical failings, not reunited a single child residing in violence-plagued Central America with their parents here in the United States. Meanwhile, the immigrant women and children who successfully fled violence remain locked up in detention facilities. I urge the Obama Administration to immediately comply with the federal court order to release these families and as President I will end our nation's failed experiment with family detention.
4. Encourage states to expand in-state tuition, access to driver's licenses and health care to New American immigrants. Many states affirmatively expanded access to in-state tuition, drivers licenses, and health care to immigrants. As President, I will work with Congress to repeal laws that deny access to federal financial aid based on immigration status and establish federal incentives for states to continue to move in the right direction. Moreover, I strongly and without reservation support national in-state tuition for all immigrants, regardless of status.
5. Promote family unity by reducing unnecessary barriers to lawful status. Many immigrants who are entitled to lawful permanent resident status (or "green cards") must first return to their home countries if they previously lived in the United States while undocumented. Yet, when they depart, they are then barred from re-entering the United States for three to ten years. This 1990's policy creates a Catch 22 that needlessly hurts American families, punishing individuals even if they are now eligible to legally remain in the United States. While waivers to these punitive bars to re-entry exist, families often struggle to meet confusing eligibility requirements. As President, I will work to keep families together by improving access to these important waivers and creating a rebuttable presumption of extreme hardship in cases involving immigrant families who are the most vulnerable and meet certain criteria.
Martin O'Malley, Press Release - Additional Protections for New Americans Online by Gerhard Peters and John T. Woolley, The American Presidency Project https://www.presidency.ucsb.edu/node/313376