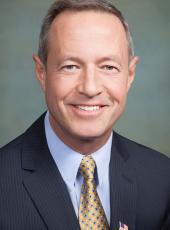 Press Release - Addiction Treatment
The epidemic of untreated substance use disorder is a crisis that claims tens of thousands of American lives each year. With deaths from prescription drug overdoses quadrupling since 1999, overdose-related deaths now exceed the number of traffic fatalities, suicides, or homicides. Yet our response has not matched the scale of the emergency. Proven prevention and treatment strategies are underutilized. Funding for treatment programs is insufficient. Outdated stigmas make too many people reluctant to seek care, and make too many communities unwilling to provide it. Millions of families are needlessly torn apart.
As Mayor of Baltimore and Governor of Maryland, Martin O'Malley brought all resources to bear to stop the epidemic of drug addiction and overdose. In Baltimore, Martin O'Malley expanded access to drug treatment to thousands of people while more than doubling funding for the city's treatment system. His innovative efforts drove a 60 percent reduction in overdose deaths from heroin over 10 years—a program still cited as a successful national model.
In Maryland, Governor O'Malley made addressing addiction one of his Administration's top goals. The centerpiece of this agenda includes forming an Overdose Prevention Council, which coordinates state agencies and local governments to collaborate on reducing overdose deaths. Under Governor O'Malley's leadership, Maryland increased addiction treatment services by 45 percent, helped doctors identify and treat substance use disorder, and empowered pharmacies and first responders to stock and safely administer overdose-reversing drugs. Maryland also developed the nation's first local overdose review teams, which review the circumstances of each overdose death to find lessons for prevention.
As president, Governor O'Malley will hold this same commitment to saving lives and addressing addiction. Drawing on his 15 years of executive experience, he will expand and improve addiction treatment, invest in recovery, improve coverage, and prevent substance use disorders before they start.
As a nation, we have looked past people imprisoned by drug addiction for too long—despite having the tools to save them. They are our husbands, wives, brothers, sisters, and children. By focusing coordinated public health efforts on outcomes and holding ourselves accountable for results, we can save lives, spare families anguish, and rebuild our communities.
An O'Malley Administration will provide a new level of support and accountability for efforts to address addiction and overdose in the United States. Governor O'Malley's ultimate goal as president is to reduce deaths from drug overdoses by 25 percent by 2020—an objective he first laid out in his 15 National Goals to Rebuild the American Dream.
As president, Governor O'Malley will take a public health approach to substance use disorders: developing and implementing a coordinated national strategy to reduce risky prescribing of pain medications, expanding access to effective addiction treatment, and investing in community resources for recovery.
Launch a National Dashboard on Overdose
To manage this strategy, Governor O'Malley will establish a national dashboard on overdose and addiction to monitor the problem, track our response nationwide, and target resources so that all Americans have access to critical services that support prevention, treatment, and recovery. This includes improving data collection and sharing information more quickly—with law enforcement, first responders and physicians, and other local leaders—so communities can respond effectively as soon as addiction and overdose challenges arise. This dashboard will guide $12 billion in federal investments and partnerships over the next decade, while providing a clear and transparent way for O'Malley to hold the federal government accountable.
The dashboard's first use will be to reduce addiction to fentanyl—a highly potent and deadly narcotic increasingly laced into heroin—which was responsible for an unprecedented number of overdose deaths last year. The problem is especially acute in New Hampshire, where fentanyl took more lives than heroin in 2014. Within 100 days of taking office, O'Malley will direct his Administration to create and adopt a national fentanyl strategy—one that includes expanded prevention education, greater coordination with law enforcement, increased use of naloxone to reverse overdose, and robust treatment.
Stop the Over-Prescription of Pain Medications
The rapid rise in prescribing drugs to manage pain has contributed to the epidemic of opioid addiction. Physicians have an important role to play in reducing the inappropriate use of prescription drugs and helping individuals suffering from addiction reach treatment. As president, Governor O'Malley will:
Require Physician Training on Pain Prescribing. O'Malley will require all physicians seeking authority from the Drug Enforcement Administration to prescribe pain medications to first demonstrate that they have taken courses in appropriate prescribing. In Maryland, all physicians must complete required continuing medical education on prescribing controlled substances in order to maintain their license.
Strengthen Prescription Drug Monitoring Programs. O'Malley will reward states that implement effective prescription drug monitoring programs, and demonstrate that they canreduce addiction and overdose. These programs can help doctors and other health care providers access information that allows them to identify patients who are at risk of addiction, and connect them to the treatment they need. In Maryland, O'Malley did just that—launching a prescription drug management system that is linked to the state's web- based health information exchange.
Support Patient Education on Pain. O'Malley will develop an effective public campaign on pain drug addiction, modeled on previously successful efforts to reduce patient requests for unneeded antibiotics. By increasing public awareness around this quiet tragedy, O'Malley help patients understand that there are many other ways to manage chronic pain, beyond risky opioid medications.
Expand Access to Treatment
As the Mayor of Baltimore, Governor O'Malley led an effort that reduced heroin-related deaths by more than 60 percent—by expanding the resources for treatment, and focusing on therapies that worked. As president, he will ensure that states and local governments have the funding, support, and information they need to save lives:
Expand Access to Naloxone. Naloxone is an effective reversal drug used to treat overdoses from both prescription opioids and heroin; its increased use may already be saving hundreds of lives in New Hampshire. O'Malley will set a national goal of training and equipping all first responders to administer naloxone in areas with significant numbers of overdose fatalities. O'Malley will also bring together the FDA, industry, and others to make sure a readily-available and inexpensive supply of naloxone is available. In particular, that means focusing on those who need the most support—such as the friends and family of people with substance use disorders. In Maryland, O'Malley worked to ensure that pharmacies stocked naloxone, developed training programs for family and community members, and signed legislation and an executive order to expand use of the medication.
Equip All First Responders. Ensuring that first responders can carry and safely administer naloxone is an important first step, but not a sustainable solution. That's why O'Malley will work to ensure that—whenever hospitals or first responders treat overdose—they can quickly direct patients to effective addiction treatment options. Emergency rooms are our first line of intervention, and must be empowered them to provide access to lasting care.
Increasing Funding for Effective Therapies. Existing federal investments to support comprehensive drug treatment systems pale in comparison to the need. O'Malley will work to greatly expand federal grant programs, increasing the number of grants and incentives for innovation in each state. This includes providing resources and technical assistance to states willing to overcome barriers to expanding care, like New Hampshire.
Expanding Coverage of Proven Treatments Under Medicare and Medicaid. Medicare pays for pain medications that can lead to addiction, yet many states do not reliably cover treatment medications as part of comprehensive treatment programs. In Maryland, O'Malley ensured that Medicaid covered medications to reverse overdose and treat addiction. As president, he will support regulations and legislation to expand coverage of evidence-based, medication-assisted treatment for opioid dependence under Medicare and Medicaid, helping tens of thousands of people afford the treatments they need to recover.
Assuring Every Veteran Access to Treatment Within 12 Hours. The demands of military life, combat, and the return home can be complicated dramatically by addiction and related disorders. Mental and substance use disorders caused more hospitalizations among U.S. troops in 2009 than any other cause. O'Malley would set a new national goal for helping veterans access proven therapies for treating addiction—in every community.
Improving Data Collection and Access. Federal, state, and local partners need accurate and timely data in order to address addiction spikes as they occur. Yet currently, federal overdose death data is only available a year or more later. O'Malley will launch a new national emergency surveillance program on addiction and overdose deaths, as he also did in Maryland. This effort will feed into his new national dashboard.
Investing in Community Resources for Recovery
In Maryland, Governor O'Malley supported innovative services for individuals in recovery to help them gain employment, as well as contribute to their families and their communities. As president, O'Malley would:
Implement a Public Health Response to Addiction. Incarceration is an inadequate—and in most cases inappropriate—response for people in need of treatment for substance use disorders. O'Malley will provide individuals with the care and support they require outside of the justice system, as detailed in his criminal justice reform plan. He will also establish federal guidelines for law enforcement on how to best serve people in crisis, support state Crisis Intervention Training for police officers, and ensure that people leaving prison or jail have the support they need—including substance use disorder treatment—to successfully reenter their communities.
Support Community Recovery Services. Recovery from addiction is holistic, involving not only clinical treatment but also resilience, support, and longer term care. O'Malley will provide a new level of support for community-based recovery for individuals suffering from mental illness and addiction, making urgent new investments across the country in housing, supported employment, and outpatient treatment.
Fight the Stigma of Addiction. We have long understood addiction to be chronic brain disease, yet negative associations persist—preventing too many of our neighbors from seeking care, and leading some communities to avoid providing treatment altogether. O'Malley will launch a national campaign to reduce the stigma associated with drug addiction, opening up a path for all Americans to seek treatment and recovery.
Martin O'Malley, Press Release - Addiction Treatment Online by Gerhard Peters and John T. Woolley, The American Presidency Project https://www.presidency.ucsb.edu/node/313431