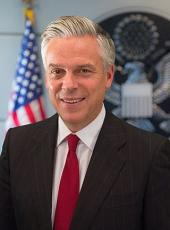 Press Release - Across the Granite State: Hillsborough to Hampton Falls
It was an action packed weekend in the Granite State with Governor Huntsman and his family.
Arriving in New Hampshire shortly after Thursday's debate in Ames, the Huntsman family reunited in Manchester before heading to Concord for a meet and greet at the Barley House. As the pictures adorning the wall say, "the road to the White House starts at The Barley House." Needless to say, we knew this would be an important stop.
After a successful event, with numerous Concord residents in attendance, the owner of the Barley House—Brian—said it was "one of the biggest crowds of any Presidential candidate" he's seen. The Governor even took a moment to sign a barstool, adding his moniker to the history of the establishment.
Next on the agenda: a business roundtable in Manchester. Governor Huntsman was privileged to spend quality time, speaking with and listening to the concerns of local business owners from the surrounding area. Together, they had a dialogue about how the government can better promote a pro-growth, pro-business environment that can get more Granite Staters working.
The next day we traveled east, west, north, and south to different parts of the state for house parties, meetings, and a walk through Newmarket's Olde Home Day Street fair.
In Newmarket, the Governor got a true taste of New Hampshire. After taking a tour of what once was one of the largest mills in the United States, the Governor stopped at different booths and vendors along the way, shucked a few oysters, and joined the entertainment to take a turn on the keyboard accompanying the band to Chuck Barry's "Johnny B. Goode." Check out the video below!
We wrapped up the weekend visiting Morse Sporting Goods in Hillsborough and hosting a meet and greet with local young republicans in Manchester.
We'll keep pounding the pavement here in New Hampshire till the Governor's next trip.
Jon Huntsman, Press Release - Across the Granite State: Hillsborough to Hampton Falls Online by Gerhard Peters and John T. Woolley, The American Presidency Project https://www.presidency.ucsb.edu/node/298628