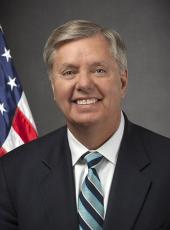 Press Release - On ABC's This Week, Graham Says He's "The Best Person To Lead This Country" And "Defend This Nation In Times Of Great Peril"
Alexandria, VA - Today, Senator Lindsey Graham appeared on ABC's This Week where he announced his decision to upgrade the flip phone to an iPhone, Donald Trump and the Republican platform, the Iran nuclear deal, and the debate criteria.
As highlighted by The Hill, Senator Graham also discussed why he's the best person to lead and defend our nation. Graham stated on Sunday that Donald Trump is 'bankrupt' when it comes to being Commander-In-Chief.
Watch the full interview here: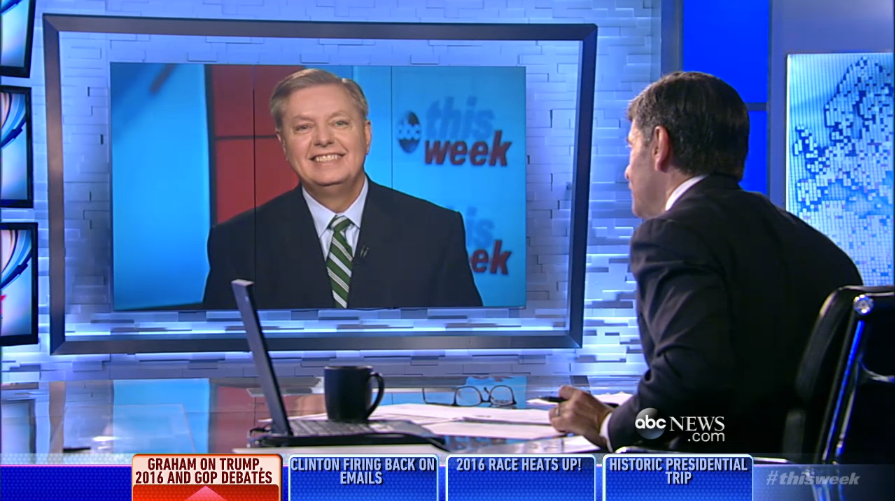 On Upgrading To An iPhone, Graham Joked: "I'm Sure Apple's Stock Will Soar..."

"Yes, it is an iPhone and I'm sure Apple's stock will soar, but I have got an iPhone... I don't know if I'm going to email, but I do have an iPhone. I needed to upgrade. Donald Trump has done something my staff could never get me to do, and that's get a new phone so thanks, Donald."
On Trump And The Republican Platform: "...I Would Ask The Republican Party To Understand Why Most Major Companies Are Firing Mr. Trump And I Don't Think We Should Hire Him."

"Well number one I would ask the Republican party to understand why most major companies are firing Mr. Trump and I don't think we should hire him. You know, I'm not taking on voters, I'm taking on an idea that I think he's appealing to the dark side of American politics. He is not offering solutions to hard, complicated problems. He is basically selling fear and prejudice.
On Trump's Success In The Polls: "I Think There's A Market In Both Parties, If You Say Outrageous Things."

"There's a market in my party for people. If you say that Obama's not born in America, that he's actually born in Kenya, there are people who want to believe that. If you say most illegal immigrants are drug dealers and rapists, there are people that want to believe that. And he's appealing to fear and prejudice and there's a market for that. If you said Bush was a war criminal or that he's stupid there's a market for that on the other side so, what Mr. Trump is offering is not really good for the party or the country but unfortunately there's a market for this... Here's what I believe about Mr. Trump, the marketplace will work over time and we're going to get serious as a party about winning in '16. We have a wonderful opportunity to win."
"Mr. Trump talks about his bank account a lot and how rich he is, my dad said something that stuck with me a long time ago 'don't judge a person by the size of their bank account, but by what's in their heart.' I can tell you as to the men and women who are fighting this war and who serve our nation that they have relatively modest bank accounts, but they have great hearts. I don't think Mr. Trump is qualified to be Commander-in-Chief, I think he's bankrupt when it comes to all the qualities you need to lead the men and women in uniform and to lead a great nation."
On Why He's Most Qualified To Be Commander-In-Chief: "I've Been Busting My Butt Going To Iraq And Afghanistan...To Understand What's Going On In The Region... I Understand The Region Better Than Anyone."

"...for the last ten years I've been busting my butt going to Iraq and Afghanistan over 35 times to understand what's going on in the region to learn from Bush's mistakes, my mistakes, and Obama's mistakes...I'm the best qualified to be Commander-in-Chief I understand the region better than anyone. I've served 33 years in the Air Force and just retired last month. And when it comes to this Iranian deal let me tell you what we've done. We've given them a bomb, a missile to deliver it, and money to pay for it. This is a terrible deal and the reason we got such a bad deal was the Iranians don't believe Obama would ever use the military option to stop their nuclear breakout and they never believe for one minute that John Kerry would ever walk away."
On The Iran Nuclear Deal: "I Hope That We Will Reject This Deal, Because If We Don't The Next President Will Have No Leverage To Get A Better Deal."

"We can get a better deal, we must get a better deal, and here's what we need to understand, that this is a religious theocracy that practices a form of Islam that compels them to destroy the state of Israel and to come after democracies like the United States where you can worship god on your own terms. These people are religious fanatics and we've empowered them in a very dangerous way."
On The Debate Criteria: "I Think It's A Mistake To Do It Based On National Polls."

"National polling is not testing things that are eventually going to win the day. I think it's a mistake to do it based on national polls. Here's what I've learned from John McCain, you can be fifth in a four person race and come back and win if you've got a message. I am going to talk to people in Iowa, New Hampshire, and South Carolina about the threats we face, why I'm the best qualified to be Commander-in-Chief and why Mr. Trump, while he says a lot of controversial and loud things is not qualified to be Commander-in-Chief and that he can not win and election that we cannot afford to lose."
Lindsey Graham, Press Release - On ABC's This Week, Graham Says He's "The Best Person To Lead This Country" And "Defend This Nation In Times Of Great Peril" Online by Gerhard Peters and John T. Woolley, The American Presidency Project https://www.presidency.ucsb.edu/node/312297