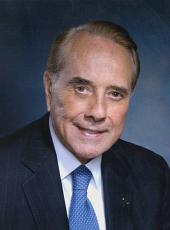 Press Release - 7 Questions Al Gore Won't Answer Tonight
It was Al Gore's tie-breaking vote in the Senate in 1993 that passed Bill Clinton's world record $265 billion tax increase. That tax hike has cost American taxpayers: $115 billion from higher income tax rates, $31 billion from higher gasoline taxes, $25 billion from increasing taxes on Social Security benefits, and $29 billion from expanding the Medicare payroll tax base. "The Economic and Budget Outlook," Congressional Budget Office, 9/93
1. WILL AL GORE SAY THAT HE, LIKE BILL CLINTON, "NEEDS' BOB DOLE'S TAX CUT?
On Sunday night, Bill Clinton told Bob Dole that he could use the Dole-Kemp tax cut. His exact words when prompted by Dole saying that even Clinton would get it were: "That's good. I need it." If Bill Clinton himself admits he "needs" the Dole-Kemp tax cut, how can Gore defend his opposition to it?
3. WILL AL GORE ACKNOWLEDGE THAT CLINTON'S "TARGETED" TAX CUTS ARE ACTUALLY ANOTHER MASSIVE TAX INCREASE?
Like they did in 1992, Bill Clinton and Al Gore have been promising for months to give voters "targeted" tax cuts if reelected. But the bi-partisan Joint Committee on Taxation found that Clinton's "targeted" cuts are paid for with $188 billion in tax increases -- a net tax increase of $64 billion. Worse yet, the bulk of Bill Clinton's tax "cuts", including his child tax and education tax deduction, are temporary -- they disappear on December 31, 2000.
Joint Committee on Taxation
4. WILL AL GORE RULE OUT PARDONS FOR BILL CLINTON'S CONVICTED WHITEWATER BUSINESS PARTNERS?
During Sunday night's debate, Bill Clinton refused to promise that he wouldn't pardon his former Whitewater business partners. All he would say is that "there's been no consideration of it, no discussion ... I will not give anyone special treatment, and I will strictly adhere to the law." Will Gore unconditionally rule out Whitewater pardons?
5. WILL AL GORE TAKE RESPONSIBILITY FOR THE MILLION NEW KIDS USING DRUGS SINCE HE AND CLINTON WERE ELECTED?
Until this election year started, Bill Clinton and Al Gore had done almost nothing to fight drug use. They had slashed the Drug Czar's office, cut interdiction funds, pursued fewer prosecutions, and even appointed a Surgeon General who suggested legalizing drugs. Predictably, teen drug use has skyrocketed -- increasing 105% from 1992 to 1995 alone. Will Al Gore accept responsibility for his complicity in-this increase? U.S. Department of Health and Human Services
6. WILL AL GORE ADMIT THAT A 39% INCREASE IN MEDICARE SPENDING IS NOT A "CUT"?
Will Al Gore follow in Bill Clinton's footsteps and make the indefensible claim that the Dole plan to increase Medicare funds by 39% is actually a "cut"?
As observers from both parties have noted, this assertion is a flat-out lie.
* The Republicans plan, vetoed by Bill Clinton, would have spent $1.65 trillion on Medicare over 7 years, compared to $1.706 trillion for the President's plan - only a 3% difference. House Commerce Committee
* In fact, the only person who has proposed cutting Medicare was Hillary Clinton who, during Congressional debate on her health care plan, testified that "zero growth" was the Administration's target for Medicare spending, Federal News Service, 9/30/93
* Bill Clinton himself admitted that: "Only in Washington do people believe that not one can get by on two times the rate of inflation. So, when you hear all this business about cuts, let me caution you that is not what is going on." Bill Clinton, October 5, 1993
7. WILL AL GORE LET ALL PARENTS CHOOSE THE BEST SCHOOL FOR THEIR CHILDREN LIKE HE AND CLINTON DO?
* Bill Clinton falsely represented to the American people that he supports school choice. He does not, even though he and Al Gore send their children to private school. Bill Clinton blocked a modest school choice proposal for the District of Columbia which has one of the highest per pupil spending rates and among the lowest test scores in the nation. Stu Tribune, 9/26/96
* Despite the teachers' unions anti-choice campaign and Clinton's opposition, 70% of Americans support policies to help children in failing schools attend a public, private, or parochial school of their choice. Center for Education Reform, 9/11/96
Robert Dole, Press Release - 7 Questions Al Gore Won't Answer Tonight Online by Gerhard Peters and John T. Woolley, The American Presidency Project https://www.presidency.ucsb.edu/node/316033