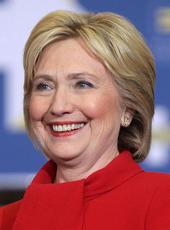 Press Release - 500 NH Women Announce Support for Sen. Clinton For President
State Sen. DeVries to Co-Chair NH Women for Hillary
CONCORD, NH -- On the day before Equal Pay Day 2007, State Senator Betsi DeVries, who was the first woman firefighter in Manchester, today announced that she and over 500 New Hampshire women have decided to support Senator Hillary Clinton for President. Citing Clinton's leadership and experience, Devries is the first New Hampshire State Senator to endorse Senator Clinton and will serve as a Co-Chair of "Women for Hillary" in New Hampshire.
"Tomorrow is Equal Pay Day, and it is on days like tomorrow that women across this country need to stop and think about what is at stake in this election. Senator Clinton understands the challenges all women face and that's why so many incredible and diverse women are a part of this campaign," said Senator DeVries. "We need an experienced, strong and qualified leader who can get this country back on track. The person best equipped to take this job is absolutely Senator Clinton."
Senator DeVries was joined today by former Massachusetts Lt. Governor Evelyn Murphy, President of the WAGE Project, which is a national organization working to end wage discrimination against working women and women supporting Clinton from across the state. The more than 500 women represent the first women signing on in support of Senator Clinton. They include educators, seniors, healthcare workers, mothers, community activists and business leaders from 118 towns across the state and all 10 New Hampshire counties.
Today, the WAGE Project and the National Committee on Pay Equity announced the results of a nationwide survey of over 700 working women that provided valuable information about how working women of America see themselves treated and paid. In 2005, New Hampshire women made 71.1 cents for every dollar that a man made. To access a wage gap calculator and learn how to get involved with "Women for Hillary" please visit www.hillaryclinton.com/womenforhillary.
"Senator Clinton is leading the way to ensure there are strengthened laws that will guarantee working women and employers can achieve gender pay equity," said Murphy. "The health of the United States economy and the health of American families will be strengthened when women finally get paid like men. I commend Senator Clinton and her Paycheck Fairness Act that aims to address and correct these inequities."
The WAGE Project's report findings showed that 70 percent of women surveyed reported recent experiences with unfair, inequitable treatment and pay. Two thirds of them said gender bias and discrimination accounted for the inequities. In addition more than half of the women who reported inequitable treatment and pay took no action for fear of retaliation or convinced their chance to improve their situation was hopeless.
Senator Clinton's Paycheck Fairness Act builds on the promise of the Equal Pay Act and helps close the pay gap. The bill will take critical steps to empower women to negotiate for equal pay, to create strong incentives for employers to obey the laws that are in place, and to strengthen federal outreach and enforcement efforts. As a whole, the Paycheck Fairness Act will prevent, regulate and reduce pay discrimination for women across the country.
Senator DeVries' experience includes a 12-year career as the first woman to serve on the Manchester Fire Department. After her retirement in 2001, Betsi served three terms on the Manchester Board of Alderman. In addition to her elected positions, DeVries also serves on the board of directors of the Heritage United Way, and the Manchester YWCA, and is past president of the Manchester Area League of Women Voters. She lives in South Manchester with her husband Walter Becht. She has two step children and one three year old grandchild.
In 1986, Dr. Murphy was elected Lt. Governor and became the first woman in the state's 210 year history to hold constitutional office. Prior to that, despite the state's progressive image, no woman had ever been elected Governor, Lt. Governor, Secretary of State, Attorney General, Treasurer, Auditor, or US Senator in Massachusetts.
A list of New Hampshire Women for Hillary follows:
Gladys Renoe, Alexandria

Marie Slugaski, Alexandria

Laura Honey, Alstead

Dale Woodruff Kong, Alstead

Andrea Amodeo-Vickery, Amherst

Donna E. Burke, Amherst

Beverly Melle, Amherst

Francine Naidus, Amherst

Tami Shartrand, Amherst

Susan West, Amherst

Kathleen Gualco, Atkinson

Linda Steir, Atkinson

Kathy Curran, Barrington

Ann Dupuis, Barrington

Angela Foote, Barrington

Cheryl A. Huckin, Barrington

Mary Irons, Barrington

Jo MacNair, Barrington

Melissa Rebirds, Bartlett

Tracy Therrien, Bartlett

Alexis Gates, Bedford

Catriona Beck, Bennington

Lise Lemieux, Bennington

Lorraine Bisson, Berlin

Annette Bisson, Berlin

Lillian Colbeth, Berlin

Barbara Demers, Berlin

Betty Fortier, Berlin

Sue Gallant, Berlin

Carole Hockmeyer, Berlin

Velma Lavoie, Berlin

Kris Martin, Berlin

Kathryn McKenna, Berlin

Eleanor McLaughlin, Berlin

Kimberly Williams, Berlin

Arianne Kraft-Lund, Bethlehem

Mary Lou Krambeer, Bethlehem

Karen Bemis, Bow

Barbara Bennett, Bow

Danealle Bittle, Bow

Julia Cotter, Bow

Marilyn Dennison, Bow

Polly Shumaker, Bow

Veronica Vahsen, Bow

Kate Whitegiver, Bow

Jacqueline Pehrson, Bradford

Melanie Levesque, Brookline

Erika Clyons, Campton

Carol Lenahan, Campton

Cynthia Moniz, Canterbury

Marcia Kimball, Center Harbor

Allycia Kimball, Center Harbor

Patricia Jordan, Center Tuftonboro

Sandra C. Harris, Claremont

Genevive Johnson, Claremont

Ruth Joly, Claremont

Valerie Mahar, Claremont

Janet Arvin, Concord

Christy Bartlett, Concord

Monique Cesna, Concord

Monica Ciolfi, Concord

Karen Cox, Concord

Sandy Dagnese, Concord

Karen Davies, Concord

Victoria Disarro, Concord

Nancy Greenwood, Concord

Mary Louis Hancock, Concord

Kelly Holmes, Concord

Dorothy Hunt, Concord

Katrina Kindel, Concord

Mary Ann Lakevicius, Concord

Kristina Levine, Concord

Virginia MacIntosh, Concord

Sara Minette, Concord

Jessica Pickard, Concord

Joanne Poulliot, Concord

Kerry Russell, Concord

Mary Schuh, Concord

Erin Stewart, Concord

Virginia Syvinski, Concord

Jennifer Telesco, Concord

Anna Vlacich, Concord

Mary Jane Wallner, Concord

Amy Wright, Concord

Suzette Murdock, Danville

Josephine Panasci, Danville

Laurie Taylor, Danville

Helena Digiovanni-Hagenau, Derry

Melissa Glassman, Derry

Kimberly Plourde, Derry

Linda Svitak, Derry

Joni Ahlquist, Dover

Marie Bartlett, Dover

Jennifer Blankenship, Dover

Erica Blatt, Dover

Cheri Booth, Dover

Annie Bresnahan, Dover

Maura Byrne, Dover

Lynn Carey, Dover

Michelle Champagne, Dover

Lynda Douglas, Dover

Beth Downs, Dover

Dana Gray, Dover

Betty Hannan, Dover

Ginny Hermann, Dover

Lindsay Humphreys, Dover

Jane Kavanaugh, Dover

Carrie Keech, Dover

Aviva Meyer, Dover

Natalie Moran, Dover

Linda Varney, Dover

Jessica Vassillion, Dover

Valerie Vuk, Dover

Louise White, Dover

Gina Whitehead, Dover

Janet Yusko, Dover

Susan Kilday, Dover

Patricia Davis, Dublin

Maureen Luksza, Dunbarton

Jolanta Sweson-Shea, Dunbarton

Lisa Allison, Durham

Joan Ashwell, Durham

Ally Cheney, Durham

Anne Courtney, Durham

Liza De Angelis, Durham

Melanie Drogseth, Durham

Audrey Drogseth, Durham

Katie Floyd, Durham

Lori Hopkins, Durham

Roni Slavin Pekins, Durham

Alison Sweatt, Durham

Veronica Abbott, East Wakefield

Rachel Clermont, Epsom

Diane Doheny, Exeter

Robin Gorman, Exeter

Stephanie Marshall, Exeter

Sally Martin, Exeter

Karen Noonan, Exeter

Marynia Page, Exeter

Joan Robinson, Exeter

Annette Leel, Fitzwilliam

Lois Ray, Fitzwilliam

Catherine Dowd, Franconia

Martha McLeod, Franconia

Linda Roberts, Franklin

Dawn Alexander, Freedom

June Gordon, Fremont

Lindsey Bickford, Gilford

Ann Swett, Gilford

Christine Spaulding, Gilmanton Iron Works

Nancy Marquis, Glen

Vilma Burnett, Goffstown

Janine Chancey, Goffstown

Ruth Gage, Goffstown

Carolyn Gordon, Goffstown

Kathy Ireland, Goffstown

Teresa Kyriacos, Goffstown

Carol Linehan, Goffstown

Judith Logan, Goffstown

Merrilee Thissell, Goffstown

A. Jean Benner, Gorham

Beverly Barney, Grantham

Kathryn Waterman, Grantham

Sue Kim, Greenfield

Karen Bailey, Greenland

Beverly Hurst, Greenland

Beth Sharp, Greenland

June Casey, Hampton

Virginia A. Collins, Hampton

Ann Connors, Hampton

Brenda Conroy, Hampton

Andrea Cook, Hampton

Jean De Zarn, Hampton

Carol Douglas, Hampton

Carol W. Doyle, Hampton

Michelle Draeger, Hampton

Harriet Goff, Hampton

Michele Haberman, Hampton

Aimee Kent, Hampton

Sylvia Lavallee, Hampton

Lisa Maes, Hampton

Mary Maher, Hampton

Deborah Makowsky, Hampton

Marynia Martin, Hampton

Caitlin McEachern, Hampton

Paula Munch, Hampton

Mary Peterson, Hampton

Wendy Rega, Hampton

Kathleen Richards, Hampton

Ann-Marie Serewicz, Hampton

Brenda Shepard, Hampton

Marie Stefan, Hampton

Sandra Taube, Hampton

Pam Tiberia, Hampton

Jane Gallagher, Hampton

Linda S. Leary, Hampton Beach

Elaine Ahearn, Hampton Falls

Lorraine D. McGlinchey, Hancock

Ruth Subers, Hancock

Victoria Boggiano, Hanover

Ashley Cartagena, Hanover

Marion Copenhaver, Hanover

Hilary Owen, Hanover

Joanna Pucci, Hanover

Nora Wijn, Hanover

Megan Caft, Harrisville

Sara Cawthon, Harrisville

Eleanor Kjellman, Henniker

Frances Boucher, Hinsdale

Robin Shaink, Hinsdale

Gail Koutroubas, Hudson

Lisa Lyon, Hudson

Mary Beth Theisen, Jaffrey

Alison Brodee, Keene

Nancy Brown, Keene

Annie Callaway, Keene

Claire Casey, Keene

Vivica Duffield, Keene

Shannon Feeley, Keene

JoAnn Fenton, Keene

M.J. Forbes, Keene

Joan Freedman, Keene

Rebecca Holland, Keene

Edwina Carr-Jangarathis, Keene

Cheryl Kahn, Keene

Rose LaPalme, Keene

Susan Lucia, Keene

Glenna Mercure, Keene

Pat O'Connell, Keene

Kelly O'Connell, Keene

Miriam Olken, Keene

Marcia Passos Duffy, Keene

Catherine Peterson, Keene

Helen Peterson, Keene

Janet Fuering Russell, Keene

Mary Sherwin, Keene

Cynthia Sieracki, Keene

Pamela Russell Slack, Keene

Linda Stavely, Keene

Michelle Swenson, Keene

Linda Walker, Keene

Barbara Carpenter, Kensington

Cheryl McDonough, Kensington

Sandy Mitchell, Kensington

Catherine Cardillo-Bragg, Kingston

Susan Gobeil, Kingston

Audrey Goyette, Laconia

Tammi Anthony, Lebanon

Deborah Liddy, Lebanon

Bonnie Rivard, Lebanon

Meghan Ricker, Lee

Karen Ricker, Lee

Christa Ricker, Lee

Gwendolyn Howe, Littleton

Tammy Siekman, Londonderry

Katie Wolff, Londonderry

Lisa Crossman, Loudon

Carla Kimball, Loudon

Stacey Bellabona, Madbury

Molly Shaheen, Madbury

Janet G. Wall, Madbury

Madalyn Ahlgren, Manchester

Angelique Amadeo, Manchester

Stavroula Bakolas, Manchester

Margaret Batchelder, Manchester

Denise Bauer, Manchester

Brandy Bergeron, Manchester

Susan Boet, Manchester

Doreen Boutin, Manchester

Rosanne Breault, Manchester

Samantha Calhoun, Manchester

Jessica Chau, Manchester

Doris Cintron, Manchester

Jane Clayton, Manchester

Xiomara Colon, Manchester

Kenisha Colon, Manchester

Susan Colwell, Manchester

Patricia Cornell, Manchester

Daisy Cruz, Manchester

Taina Cruzado, Manchester

Tammy Davis, Manchester

Christina Day, Manchester

Heidi Decato, Manchester

Betsi DeVries, Manchester

Kelleigh Domaingue, Manchester

Sophia Dongas, Manchester

Shari Duclos, Manchester

Tara Fairweather, Manchester

Michelle Farrell, Manchester

Suzanne Felde, Manchester

Joan Flurey, Manchester

Mariana Gasis, Manchester

Gina Gasis, Manchester

Polly Gasis, Manchester

Donna Guillemette, Manchester

Kathleen Howard, Manchester

Roberta Jache, Manchester

Lindsay Johnson, Manchester

Florence Johnston, Manchester

Betty Kacavas, Manchester

Mindy Kacavas, Manchester

Aphrodite Kalampalikis, Manchester

Rika Kalampalikis, Manchester

Peggy Kalampalikis, Manchester

Theohare Kapellakis, Manchester

Katelyn Kerins, Manchester

Robin Kinney, Manchester

Catherine Kowalczyk, Manchester

Melissa Labrie, Manchester

Susan LaBrie, Manchester

Suzanne Lajoie, Manchester

Laura Lawler, Manchester

Christine Mable, Manchester

Helena Malik, Manchester

Kelly Marin, Manchester

Patricia Massey, Manchester

Olivia McQuade, Manchester

Maggie Moore, Manchester

Patricia W. Morris, Manchester

Ann Marie Morse, Manchester

Katherine O'Loughlin, Manchester

Tara O'Neil, Manchester

Celia O'Neil, Manchester

Theresa Petrello, Manchester

Danielle Pixley, Manchester

Vera Prough, Manchester

Vilma Ramos, Manchester

Nildairis Ramos, Manchester

Judy Reardon, Manchester

Wanda Rosario-Caraballo, Manchester

Denise Rudman, Manchester

Frances Shaine, Manchester

Barbara Shaw, Manchester

Maria Spirou, Manchester

Pat Spirou, Manchester

Kelly Spirou, Manchester

Sara Stanton, Manchester

Mary Sysyn, Manchester

Aneta Theodosopoulos, Manchester

Chrysa Tsatsopoulos, Manchester

Melba Velez, Manchester

Luz Velez, Manchester

Emily Walsh, Manchester

Judy Wenners, Manchester

Carol Williams, Manchester

Tammy Winchell, Manchester

Kathleen Brooks, Marlborough

Andi Johnson, Marlborough

Marge Shepardson, Marlborough

Deborah Southwell, Marlborough

Shirley Bickford, Marlow

Gail DiGangi, Merrimack

Mary Moriarty, Merrimack

Mona Movafaghi, Merrimack

Wendy Thomas, Merrimack

Jennifer Webster, Merrimack

Lucia Castonguay, Milan

Kimberly Hockmeyer, Milan

Jessica Burbank, Milford

Karen Clark, Milford

Heather Cox, Milford

Mary Ireland, Milford

Tami Rivas, Milford

Jane Clemons, Nashua

Josephine Clemons, Nashua

Kathleen Drolet, Nashua

Christine Fleet, Nashua

Patricia Gorman, Nashua

Angeline A. Kopka, Nashua

Bette Lasky, Nashua

Lori Movsesian, Nashua

Tina Munroe, Nashua

Debora B. Pignatelli, Nashua

Brenda Quinney, Nashua

Nicoleta Roebling, Nashua

Mary Stamas, Nashua

Jill Stanfield, Nashua

Jodi Sutherland, Nashua

Yvonne Theriault-Wilkinson, Nashua

Amber Wilmot, Nashua

Susan Wright, Nashua

Amethyst Wyldfyre, Nashua

Jane Schofield, New Boston

Pat Schlesinger, New Hampton

Jayne Powers Leary, New London

Polly Spaulding, New London

Jean Donohue, Newfields

Donna Finley, Newfields

Miriam Holmwood, Newfields

Judy Ford, Newmarket

Doreen Howard, Newmarket

Adrian Major, Newmarket

Nicole Belisle-Briggs, Newton

Carolyn Kelly, Newton Junction

Stephanie Roach, North Conway

Gale Rosenberger, North Hampton

Debra Scheyer, North Hampton

Patti Cohen, North Sutton

Ricia McMahon, North Sutton

Diann Ross, Northfield

Deborah Wheeler, Northfield

Susan Harden, Pelham

Marcia Sweezey, Pelham

Leigh Tango, Pelham

Katherine Laplante, Pembroke

Maureen Rogers, Pembroke

Erika Thorsell, Penacook

Margaret Grubbs, Pennacook

Nell Conkright, Peterborough

Christine Howe, Peterborough

Jill Shaffer Hammond, Peterborough

Diane Rivet, Pittsfield

Jody Carson, Plaistow

Nancy Dipirro, Plaistow

Carole J. Estes, Plymouth

Lori Barrett, Portsmouth

Susan Chamberlin, Portsmouth

Linda Conti, Portsmouth

Linda Dibernardo, Portsmouth

Stacey DiSimone, Portsmouth

Kate Eckert, Portsmouth

Susan Everest, Portsmouth

Jane Fithian, Portsmouth

Samantha Fleisher, Portsmouth

Anita Freedman, Portsmouth

Nancy Gentile, Portsmouth

Anna Gentile, Portsmouth

Jody Gittell, Portsmouth

Mary Clifton Horrigan, Portsmouth

Amy Howell, Portsmouth

Ruth Kenick, Portsmouth

Miranda Leveille, Portsmouth

Sara Marchessault, Portsmouth

Shannon Marcus, Portsmouth

Cynthia Mingear, Portsmouth

Virginia Patnaude, Portsmouth

Nancy Pollock, Portsmouth

Stefany Shaheen, Portsmouth

Susan Tober, Portsmouth

Billie Tooley, Portsmouth

Ingeborga Wyman, Portsmouth

Yvonne Jenkins, Randolph

Jamie Aresnaut, Raymond

Rachel Beckhardt, Raymond

Deborah Fernandez, Raymond

Renee Prince, Raymond

Shelia J. Burnham, Rindge

Shannon Force, Rindge

Pauline Gosselin, Rindge

Berta Vasseur, Rindge

Loretta Alty, Rochester

Candy Cable, Rochester

Stephanie Cable, Rochester

Irene Creteau, Rochester

Donna Desjardins, Rochester

Yvette Frost, Rochester

Pamela Heckman, Rochester

Sandra Keans, Rochester

Zulma Saavedra-Franco, Rochester

Lee-Anne Sanfacon, Rochester

Christine Westcott, Rochester

Jane Wright, Rochester

Deanna Rollo, Rollinsford

Deb Crapo, Rye

June Walsh, Rye

Mary Ann Sullivan, Rye Beach

Deb Fauth, Salem

Maina Julian, Salem

LuAnn Speikers, Sanbornton

Katherine Picard, Sandown

Kimberley Rusch, Sandown

Molly Bagley, Seabrook

Joan Chamberlin, Shelburne

Denise Ambrose, Somersworth

Carol Golding, Somersworth

Beatrice Lane, Somersworth

Amy Michaels, Somersworth

Rita Middleton, Somersworth

Ann Symonds, Spofford

Deb Zuber Lyons, Stoddard

June A. Cyr, Strafford

Shelley Shaw, Strafford

Kathleen Trinka Russell, Stratham

Rebecca Brown, Sugar Hill

Veronica Farrington, Sugar Hill

Mary V. Smith, Sunapee

Chelsey Goff, Suncook

Cheryl Kitsis, Suncook

Brenda Rodier, Swanzey

Leola O'Connor, Tilton

Carol Jones, Troy

Marcia Press, Troy

Carla Press, Troy

Doris Goguen, Walpole

Merry Lake, Walpole

Sheila Rabow, Walpole

Amy Wistreich, Walpole

Merry Lake, Walpole

Sheila Rabow, Walpole

Amy Wistreich, Walpole

Donna Chagnon, Warner

Mary Evans, Weare

Carol Friedrich, Wentworth

Sally Caltrider, West Chesterfield

Lynn Rubino, West Lebanon

Jean Etter, Westmoreland

Lisa Allard, Wilton

Sandra Gillis, Winchester

Jodi Germano, Windham

Betsy Walton, Windham
Hillary Clinton, Press Release - 500 NH Women Announce Support for Sen. Clinton For President Online by Gerhard Peters and John T. Woolley, The American Presidency Project https://www.presidency.ucsb.edu/node/292910