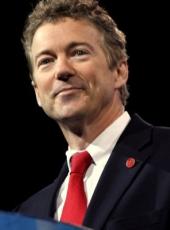 Press Release - 400 Students For Rand Chapters Established Throughout the Country
WASHINGTON, D.C. - Rand Paul for President (RPFP) recently launched a student organization effort across the nation with the goal of establishing 300 new college chapters within 30 days.
Rand Paul for President achieved this goal, and today while hosting an event at The George Washington University, Sen. Rand Paul announced the addition of 100 more Students for Rand (SFR) chapters throughout all 50 states.
"I believe that the youth vote does matter, and my constitutional conservative message of liberty, individual freedom, and small government resonates with the youth of America," Sen. Paul said. "Since the SFR initiative began, we have established over 400 active Student for Rand chapters in all 50 states. With the support of the independent youth vote, I can successfully defeat the Washington machine and restore the American Dream."
"Students for Rand has seen explosive growth during the fall semester. With now over 400 SFR Chapters nationwide, these chapters are doing the work that no other campaign is doing. They are taking Sen. Paul's message of liberty to thousands of students on campus and to thousands of early state voters through the Rand Paul phone-from-home program. It's an exciting time to be part of such an energetic organization. I encourage all students nationwide to join us and #StandWithRand," said Cliff Maloney, National Youth Director.
Students for Rand is the official youth initiative of the Rand Paul Presidential Campaign to recruit, organize, and mobilize young people to elect Senator Rand Paul as the next President of the United States. This semester alone, SFR has made around 100,000 calls using the phone-from-home program. In this critical election, a well organized youth campaign will be the difference between winning and losing early primary or caucus states. Our mission is to build a youth army and establish an SFR chapter on every college campus in the United States.
Click HERE to find more information on you local chapter and ways to get involved.
Rand Paul, Press Release - 400 Students For Rand Chapters Established Throughout the Country Online by Gerhard Peters and John T. Woolley, The American Presidency Project https://www.presidency.ucsb.edu/node/316812