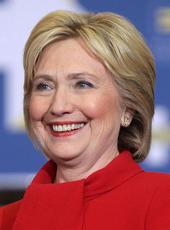 Press Release - 36 County Coordinators Sign On to Lead Iowa Efforts for Hillary Clinton
Des Moines, IA - Iowans for Hillary today announced the names of 36 County Coordinators covering 15 counties.
The following two County Coordinators had this to say about Senator Clinton today.
"The single most important issue to me in this election is the war in Iraq," said Steve Brannan of Panora in Guthrie County. "I am supporting Hillary Clinton because she has the experience to end the war and will work to restore America's reputation in the world."
"Just as she has done as a senator from New York, as president, Hillary Clinton will work hard to bring economic opportunities to small towns and rural areas across this country," said County Supervisor Linda Yoder of Marengo in Iowa County. "I am supporting Hillary because her experience makes her the most qualified candidate for president."
"Our Iowa organization continues to gain strength every day," said Senator Clinton. "I am honored to have the support of these experienced Iowa activists. Their efforts on the ground will bring us closer to the shared goals of universal healthcare, making college more affordable, and ending the war in Iraq."
36 supporters who will lead Senator Clinton's campaign in their county are:

Mary Peterson of Centerville, Appanoose County
Walter Peterson of Centerville, Appanoose County
Bonnie Bryden of Tipton, Cedar County
Alice Lopez of Lowden, Cedar County
Cyndi Heland of Burlington, Des Moines County
County Supervisor Jeff Heland of Burlington, Des Moines County
Dawn Schulte of Burlington, Des Moines County
Karen Wick of Mediapolis, Des Moines County
State Senator Mike Connolly of Dubuque, Dubuque County
Thomas Reisdorf of Dubuque, Dubuque County
Carrie Tedore of Dubuque, Dubuque County
Steve Brannan of Panora, Guthrie County
Deb Batey of Mt. Pleasant, Henry County
Mary Elgar of Mt. Pleasant, Henry County
County Supervisor Ric Gerard of Amana, Iowa County
Linda Olson of Marengo, Iowa County
County Supervisor Linda Yoder of Marengo, Iowa County
Representative Paul Bell of Newton, Jasper County
State Senator Dennis Black of Lynnville, Jasper County
Judy Dailey of Newton, Jasper County
Steve Dailey of Newton, Jasper County
Mary Krier of Ollie, Keokuk County
Bill Calloway of Cedar Rapids, Linn County
State Senator Wally Horn of Cedar Rapids, Linn County
Teresa Martinez of Cedar Rapids, Linn County
Jerica Parker of Cedar Rapids, Linn County
Alfred Ramirez of Cedar Rapids, Linn County
Marcia Rogers of Cedar Rapids, Linn County
Justin Shields of Cedar Rapids, Linn County
Emily Thomson of Cedar Rapids, Linn County
County Supervisor Paul Beneke of Palmer, Pocahantos County
State Senator Staci Appel of Ackworth, Warren County
Don Brown of Norwalk, Warren County
Patsy Olejniczak of Fort Dodge, Webster County
Joy Newcom of Forest City, Winnebago County
Naomi Maxheimer of Clarion, Wright County
Hillary Clinton, Press Release - 36 County Coordinators Sign On to Lead Iowa Efforts for Hillary Clinton Online by Gerhard Peters and John T. Woolley, The American Presidency Project https://www.presidency.ucsb.edu/node/292897