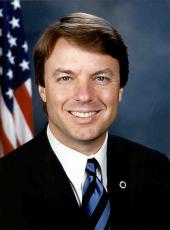 Press Release - 30 Members Of The Oklahoma State Legislature Endorse John Edwards For President
Chapel Hill, North Carolina — The John Edwards for President campaign announced today that 30 Democrats in the Oklahoma State Legislature endorsed Senator John Edwards for President. Among those endorsing Edwards are Oklahoma State Senate President Pro Tempore Mike Morgan, State House Minority Leader Danny Morgan, 10 State Senators and 20 State Representatives.
"I am honored to have the support of these outstanding leaders," said Edwards. "They work hard each day to represent the values of Oklahoma working and middle class families and I am proud to have them involved in my campaign."
House Minority Leader Danny Morgan stated, "John Edwards will fight to improve the lives of middle class Oklahomans and working Americans. He shares our values, and he understands what it takes to build the middle class and move America forward."
Senate President Mike Morgan commented: "Numerous Oklahoma Democrats from both chambers agree that John Edwards is the strongest Presidential candidate in the field. He relates to our values and can communicate with the people of our state."
Representative Jerry McPeak, a key organizer of Senator Edwards' support in Oklahoma, added:
"Oklahoma legislators representing both rural and urban areas from across the state are united behind John Edwards' candidacy. We believe he is the best candidate to move our Party and our nation forward."
The 30 Oklahoma legislators supporting John Edwards for President are:
STATE SENATORS

Mike Morgan (D-Stillwater), President Pro Tempore

Charlie Laster (D-Shawnee), President Pro Tempore-elect, Co-Floor Leader

Jay Paul Gumm (D-Durant), Co-Assistant Floor Leader, Energy Committee Co-Chair

Jeff Rabon (D-Hugo), Co-Assistant Floor Leader, Transportation Committee Co-Chair

Charles Wyrick (D-Fairland), Democratic Whip, Agriculture and Rural Development Committee Co-Chair

Kenneth Corn (D-Howe), Democratic Caucus Chairman

Sean Burrage (D-Claremore), Rules Committee Co-Chair

Judy Eason McIntyre (D-Tulsa), Education Committee Co-Chair

Richard Lerblance (D-Hartshorne), Judiciary Committee Co-Chair

Jim Wilson (D-Tahlequah), Finance Committee Co-Chair
STATE REPRESENTATIVES

Danny Morgan (D-Prague), Democratic Leader

James Covey (D-Custer City), Democratic Floor Leader

David Braddock (D-Altus), Deputy Democratic Floor Leader

Wallace Collins, (D-Norman), Asst. Democratic Floor Leader

Wes Hilliard (D-Sulphur), Asst. Democratic Floor Leader

Jerry McPeak (D-Warner), Asst. Democratic Floor Leader

Wade Rousselot (D-Wagoner), Asst. Democratic Floor Leader

Terry Harrison (D-McAlester), Democratic Whip

Eric Proctor (D-Tulsa), Democratic Caucus Secretary

John Auffet (D-Stilwell)

Scott BigHorse (D-Pawhuska)

Neil Brannon (D-Arkoma)

John Carey (D-Durant)

Jerry Ellis (D-Valliant)

Larry Glenn (D-Miami)

Darrell Gilbert (D-Tulsa)

Richard Morrissette (D-Oklahoma City)

Brian Renegar (D-McAlester)

Paul Roan (D-Tishomingo)

Glen Bud Smithson (D-Sallisaw)
Senator Morgan and Representative Morgan released the following letter announcing their joint endorsement of Senator Edwards:
Dear Fellow Oklahoma Democrat,

Our nation faces critical issues both here at home and abroad, and we need a real leader to get our country back on the right path. With the 2008 Presidential Preference Primary in Oklahoma less than a year away, we believe it is important to support a candidate who can transform America, which is why we are supporting Senator John Edwards for President.

After a thorough review of our many qualified candidates it is clear that Senator Edwards has earned our support. Senator Edwards has the ideas and vision to lead our country and restore America as the moral leader in the world. He will always fight to improve the lives of working Oklahomans and every working American.

Senator Edwards has been a friend to our state and to the causes we hold dear. He has spent more time in Oklahoma than any other announced or potential candidates, and he understands and can effectively communicate with our values-driven, populist electorate. During the 2006 election cycle, he worked tirelessly to support our efforts to elect Democratic majorities in the State House and Senate. He attended fundraisers on behalf of both the House and Senate caucuses, profiled our members on his website, and repeatedly offered his personal time and service when it could be of use for fundraising, candidate recruitment and messaging.

We believe it's time to return the favor to Senator Edwards. Not only will we be lending our name to his effort, we will also be working on the ground locally to extend our volunteer organizations to his campaign.

As the leaders of the Democratic Party in both houses of the state legislature, we both offer Senator John Edwards our endorsement and our full support. We hope that all of our colleagues in both caucuses join us in supporting Senator Edwards – the strongest candidate for President in the Democratic field.

Sincerely,

Senator Mike Morgan

President Pro Tempore

Representative Danny Morgan

Minority Leader
John Edwards, Press Release - 30 Members Of The Oklahoma State Legislature Endorse John Edwards For President Online by Gerhard Peters and John T. Woolley, The American Presidency Project https://www.presidency.ucsb.edu/node/294130