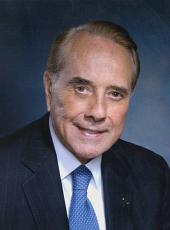 Press Release - 150 Current and Former Athletes, Olympians, Endorse Dole-Kemp Ticket
At a press conference in Long Beach, California today, the Dole- Kemp '96 campaign announced that more than 150 current and former Olympians, NASCAR drivers, and professional football and baseball players had endorsed the Dole-Kemp ticket. Flanked by more than 20 of the athletes at the event, Republican vice presidential nominee Jack Kemp launched a new coalition, Athletes for Dole-Kemp, that will be made up of professional sportsmen and women working to promote the Republican team.
"When you're down a few points going into the fourth quarter, there's no group of men and women I'd rather have on my team," said Kemp in announcing the endorsements. "These are not only some of America's best athletes, they are also role models for what we should teach our children. These athletes know that every figure in the public eye -- whether a pitcher, pole vaulter, punter, or President -- must set the highest standards for out children to look up to. Unfortunately for all of us, Bill Clinton has clearly failed that test."
"As professional athletes, we know that public behavior matters," said Athletes for Dole/Kemp co-chair John Mackey, a football Hall of Famer who played for the Baltimore Colts. "It's tough to teach your children right from wrong when their role models in public life pretend there's no difference between the two. For almost four years, we've had a President who has broken his promises, abused the power of his office, and violated his sacred trust. It's time to elect a President we can all be proud of. It's time to elect Bob Dole."
"If Bill Clinton was a football player, based on his performance over the past four years, we should put him on waivers," concluded Mackey.
Robert Dole, Press Release - 150 Current and Former Athletes, Olympians, Endorse Dole-Kemp Ticket Online by Gerhard Peters and John T. Woolley, The American Presidency Project https://www.presidency.ucsb.edu/node/315674