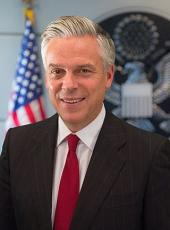 Press Release - #1 vs. #47
Today Governor Mitt Romney will announce his economic plan; the American people should hope the vision and policies he puts forth for our nation are the antithesis of what he implemented during his one term as governor of Massachusetts. Because if Gov. Romney's record is any indication, his plan will markedly raise fees and corporate taxes, block the adoption of a flat tax, let the Bush tax cuts expire and strangle small businesses with new, onerous health care regulations. It was precisely those anti-growth policies that gave Gov. Romney the distinction of leading a state that was 47-of-50 in job creation and suffered a mass population exodus to greener and economically freer pastures -- New Hampshire among them.
Just yesterday, the Daily Caller reported that despite Gov. Romney's confident rhetoric, his job-creation record was worse than one of his predecessors: Michael Dukakis.
In stark contrast to Gov. Romney, Gov. Huntsman offered a jobs plan last week that the Wall Street Journal called "as impressive as any to date in the GOP presidential field." But more importantly, Gov. Huntsman's plan reflects what he did in Utah. His record of tax cuts, free-market health care, and pro-growth policies created an environment that made Utah #1 in the nation in job growth.
When it comes to job creation, the records of Governors Huntsman and Romney offer voters a clear choice:
#1 vs. #47.
Today we released our newest web video to remind the American people of the policies Gov. Romney implemented in Massachusetts, and of their failure. We already have one President with a dismal record on jobs, we don't need another one.
Watch "#1 vs. #47":
Jon Huntsman, Press Release - #1 vs. #47 Online by Gerhard Peters and John T. Woolley, The American Presidency Project https://www.presidency.ucsb.edu/node/298592