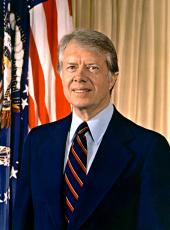 Portugal: State Luncheon in Lisbon Toast of the President.
Mr. President, let me thank you and Mrs. Panes for this lovely luncheon in this most magnificent setting. Rosalynn and I have long looked forward to a chance to visit Portugal. The excitement of the visit started even before our plane landed as we came in over Lisbon and the Tagus River. As I looked down on this beautiful city and its monuments, I was vividly reminded of Portugal's rich history.
Just a few hours ago, I had a chance to visit the monastery which honors two of Portugal's greatest heroes, the poet Camoes and the explorer Vasco Da Gama. These men and others, like Ferdinand Magellan, are properly honored in our country as well as yours. Their courage and their vision paved a way for the extension of a great cultural heritage across the seas to other continents.
Portugal has reason for pride in these men. Now, 500 years later, we may have run out of seas never before navigated, as Camoes said, but I have seen that Portugal continues to be served by dedicated men. While their task is different from that of the discoverers, it is no less difficult. It's to build a strong and a new permanent democracy.
Portugal's democratic leaders had the courage of the explorers in the years after the 1974 revolution. Your nation's perseverance and your capacity have been severely tested by the stresses of the last 6 years—economic crises, the resettlement of hundreds of thousands of refugees, forging new ties with your former colonies, and challenges to democracy itself. But you have prevailed. You've built healthy and vigorous democratic parties. You've defended freedom to debate and to differ one from another, and you've conducted fair and free elections.
Many of you in this room have helped lay the foundations of a lasting democracy in Portugal. You, the democratic leaders, have personally borne the burdens of office. You've played the role of responsible opposition. You've organized, inspired, and led your people. Because of your personal involvement in creating democracy, you know better than most how precious it is. It's no wonder that Portugal was among the first of the world's nations to recognize and to respond to the threat which was posed to democratic societies everywhere by aggression in Afghanistan and official terrorism in Iran.
Your actions and your words demonstrated that people who value freedom cannot stand idly by while others' rights are ruthlessly suppressed and while a system of international order so dearly won and so delicately maintained is so callously attacked. It 'is at times such as these that friends and allies must stand together.
The Alliance has served us well, but it's now being tested by new challenges—a challenge to its most vital economic interests and a challenge to the principle that free people in independent nations should have the right to decide their future without outside interference. Will we be able to meet such threats? Do we have the will, the capacity, the resolve to make a common stand? I am confident that we can, and my confidence has been bolstered by the talks that I have had here today.
Consultations such as these and others that I've had with other nations on this trip are essential for us to maintain the strength and unity of our associations, for we are members of a voluntary association-the association of democratic nations. It's a source of great satisfaction to me and to my fellow American, Mr. President, to know that democracy is succeeding in Portugal and that Portugal is a steadfast member of the Atlantic Alliance.
Mr. President, I ask everyone to join me as I raise my glass to you and to Portugal's democratic leaders of all parties. You've set an example in your achievements at home and in your leadership abroad. I thank you for your hospitality. I wish you every success, and I look forward to our continued and close collaboration.
Mr. President, to you, to your lovely wife, and to the brave and courageous people of Portugal.
Note: The President spoke at 2: 40 p.m. in the State Dining Room of the Ajuda Palace in response to a toast by President Eanes.
Jimmy Carter, Portugal: State Luncheon in Lisbon Toast of the President. Online by Gerhard Peters and John T. Woolley, The American Presidency Project https://www.presidency.ucsb.edu/node/251388