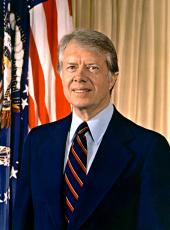 Panama Canal Treaties Remarks at a White House Dinner for Western Hemisphere Leaders Attending the Signing Ceremony.
We are not going to have toasts tonight, but I would like to say a few words of welcome to all of you.
I would like to start with one of the best friends I have, and a great leader of our country, President Ford, and welcome him here this evening.
And someone else who has inspired our country, and who has set an example of leadership and beauty and gracious example for us, and who also recognized the Marine Strings from olden times-Lady Bird Johnson.
I know that most of you were at the ceremonies where the treaties were signed, so I won't try to introduce all our guests, but I would like to present to you again our special guest for this evening, General Torrijos from Panama and his wife, Mrs. Torrijos.
Some guests that General Torrijos cares much more about now than he does about me are the Members of the United States Senate. [Laughter] We are glad to have all of you here. It's a very fine thing for you to come.
I think that this was a very fine night, too, in the life of the Organization of American States. Secretary, General Orfila, we are very proud to have you here.
Mr. Ellsworth Bunker and Sol Linowitz, would you stand just a moment? General Torrijos said he's going to be very lonesome in Panama in the future without Ambassador Bunker being there. [Laughter] He's been negotiating in Panama now for 14 years. And this is a great accomplishment for our country and also for Panama.
We invited a special guest from Brazil here tonight, Pele, but at the last minute he had to leave to go to Spain.
I was talking to General Torrijos. As you may know, the lightweight boxing champion of the world is Senor Durran from Panama, and he's very hard to match, but we tried to match him by the heavyweight champion of the world, Muhammad All, and we are very glad to have you here.
There's another man that I would like to introduce--he and his wife. I've been a very close reader of the sports page for the last several weeks, because we have a very, distinguished Georgian who has, I think, come forward with a great deal of enthusiasm and skill, a great deal of understanding of the elements, the oceans in particular. He's exemplified, I think, the name of his boat. He's a very courageous man--Ted Turner. We are very proud to have you here tonight. And as you all know, he will represent us in the America's Cup races very shortly, having overwhelmed his opponents much better than has been the case with his baseball team, the Atlanta Braves. [Laughter]
This is an evening of historic importance, and I invited another special guest from Georgia, a woman whose husband inspired the world, Mrs. Martin Luther King, Jr.
I was talking to General Torrijos a few moments ago about how important the treaty was to Panama. It was shown throughout Latin America for a full hour live this evening--the ceremonies. And he said that because of the demands of his own people, that he used helicopters to carry to all the remote villages in Panama television sets; and since they didn't have electricity, that he also carried small electric generators so that he wouldn't have to carry all the people from the remote areas into Panama City this evening. And I think this demonstrates the importance of the treaty to Panama.
He said, "Mr. President, I can tell you without fear of being wrong that more than a million Panamanians wept this evening during the ceremonies."
And I could tell from his own private conversations with me the tremendous importance of this long search for an equitable treaty that has been consummated this evening.
There is another special difference between this treaty and the one that was signed in 1903. The Panamanians had a chance to read it before it was signed-[laughter]--which was not the case with the first treaty. And I believe that the American people are big enough and strong enough, courageous enough and understanding enough to be proud of what has been accomplished, initiated by President Johnson in 1963, following a temporary outbreak of violence in the Panama Canal Zone. And the demonstration that President Johnson gave of our good intentions caused an equal demonstration of patience and perseverance and good faith and good manners on the part of the Panamanians.
And the negotiations continued under President Nixon and under President Ford. And I am very glad that my predecessors, their Secretary of State, their Vice Presidents and negotiators have led up to this successful conclusion of the effort this day.
We have an opportunity now in our own country to demonstrate again the respect and the appreciation which we feel toward our neighbors in the southern part of this hemisphere. This has not always been apparent to our neighbors, but I think the American people feel this deep within them, that the most precious friendships, the staunchest historical supporters, and those with whom we share a common history and a common future are those who live in Canada and in the nations to the south. And I believe that this treaty can open up a new era of understanding and comprehension, friendship and mutual respect, throughout not only this hemisphere but throughout the world.
It's not an easy thing to accept a change which has been so profoundly balanced in our favor and which can now be of equal benefit to both countries. But ours is a great country, and it's great enough to be fair.
I think it's accurate to say that never in the last 14 years has there been any semblance of a threat or an expression of displeasure on the part of the Panamanians toward our negotiators. Ambassador Bunker has told me this more than once.
And President Torrijos, I thank you for the good will that has been brought by you for the last 9 years as President and leader of your country to the negotiating table. And many other leaders who are represented here--27 countries in our hemisphere--have contributed a great deal of support and advice in times when the negotiations seemed to be on the verge of being broken off, when they gave quiet demonstrations of their interest in the treaty and what it might mean to all of us.
So, I am grateful to all of you leaders for coming here to give our people an expression of your interest and your support. And I think I can assure you that our Nation will rally itself to ratify the treaty, and also, General Torrijos feels sure that when the facts are presented to the Panamanians that in the plebscite that will be held late in October, that his people will also give their approval to this great step forward toward peace and mutual respect.
We will have a chance during this 3 or 4 days--I will, and my Cabinet members-to meet with all of you leaders who have come from your own great countries. And I think that you are taking advantage of this opportunity to meet with one another to resolve longstanding disputes, to work out means of alleviating the threat of possible arms races that might lead to war or to conflict of some kind, and to restore friendships that perhaps in the past have been damaged and to join with one another in planning for the future, economically and politically, that will give us all a better life.
So, I believe that we'll always look back upon this event that has been made possible by General Torrijos and many of you as the first step toward even greater progress and greater friendship in what I think is the greatest hemisphere on Earth, the Western Hemisphere of our world. Thank you very much.
I should have paused for the translations, but I didn't, and we will ask the translator to take his place now. And following that we will go and have a brief cup of coffee, and then I think you will hear some of the most delightful entertainment that you've ever heard.
Note: The President spoke at 11 p.m. in the State Dining Room at the White House.
Jimmy Carter, Panama Canal Treaties Remarks at a White House Dinner for Western Hemisphere Leaders Attending the Signing Ceremony. Online by Gerhard Peters and John T. Woolley, The American Presidency Project https://www.presidency.ucsb.edu/node/241663