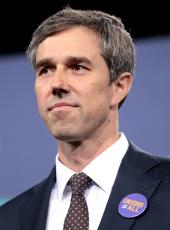 O'Rourke Campaign Press Release - Beto O'Rourke Unveils New Details of Climate Plan Focused on Partnering with the Hawkeye State
Proposals build on historic climate plan that would mobilize $5 trillion over 10 years and set a legally enforceable standard to ensure U.S. achieves net-zero emissions by 2050
DES MOINES, IA — Inspired by the conversations he has had with Iowans all across the state, Beto O'Rourke has unveiled new elements of his ambitious climate plan that leverage opportunities to partner with Iowans to combat the effects of climate change and build a more resilient and green future. He first outlined these new proposals during a climate change roundtable with local activists, academics, and elected officials at the Des Moines Public Library on Monday.
O'Rourke is proposing four specific actions:
Defend Iowa communities against floods by expanding federal crop insurance to cover risks to stored grains and partnering with local governments to invest in flood infrastructure for communities like Davenport and those across Southwest Iowa – projects which, like the one in Davenport that costs an estimated $174 million, would protect communities, businesses, and lives.
Partner with Iowa cities and communities, which are already leaders in the deployment of wind energy and manufacturing of wind turbines, to streamline siting applications that enable family farms to profit from the transition to clean energy in the United States.
Empower a new generation of Iowans to develop agricultural technology breakthroughs by increasing investments in land-grant universities and establishing a new ARPA-Grow program focused on agriculture research as part of a constellation of new DARPA-style efforts.
Enable farmers and ranchers to profit through performance incentives – not requirements – from the carbon farming practices they have pioneered such as no- or reduced-till agriculture, use of cover crops, and carbon-capturing crop rotation.
These actions build on O'Rourke's historic plan released just over a week ago to confront the existential threat of climate change and invest in American communities. O'Rourke's plan would mobilize $5 trillion over 10 years – spurred by the single largest investment in fighting climate change in history – and would include a legally enforceable standard to guarantee that the U.S. achieves net-zero emissions by 2050 and gets half way there by 2030.
On Saturday, O'Rourke arrived in Iowa for his first trip to the state since announcing his new climate change plan in California's Yosemite National Park. Over the weekend, he toured flood damage in southwest Iowa and met with farmers, residents, and local officials to discuss the toll climate change is already taking on their communities and local economies.
"The facts and the science behind climate change are clear, but there's nothing more powerful than meeting the people who are experiencing it," said O'Rourke. "Having spent a lot of time in Iowa speaking with, listening to, and learning from farmers, activists, local lawmakers, and concerned residents, I'm more optimistic than ever that we can all come together to meet this challenge and to do so by following the lead of those in the communities across this state who are already being impacted by the effects of climate change."
Since launching his candidacy for President of the United States in March, O'Rourke has held over 58 town halls and public events in 34 counties across Iowa to meet with, listen to, and learn from residents in every corner of the state about the most pressing issues impacting their communities.
Beto O'Rourke, O'Rourke Campaign Press Release - Beto O'Rourke Unveils New Details of Climate Plan Focused on Partnering with the Hawkeye State Online by Gerhard Peters and John T. Woolley, The American Presidency Project https://www.presidency.ucsb.edu/node/365491