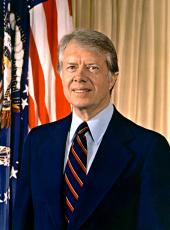 NOMINATIONS SUBMITTED TO THE SENATE Week Ending Friday,
The following list does not include promotions of members of the Uniformed Services, nominations to the Service Academies, or nominations of Foreign Service officers.

Submitted May 7, 1979

LUTHER H. HOBOES, JR., of North Carolina, to be Under Secretary of Commerce, Sidney Harman, resigned.

FRANK V. ORTIZ, JR., of New Mexico, foreign Service officer of Class one, to be ambassador Extraordinary and of the United States of America to Guatemala.
WILLIAM M. LANDAU, of New York, to member of the Board of Directors of Overseas Private Investment for a term expiring December 17, 1980, Wallace F. Bennett, term expired.
LEON B. APPLEWHAITE, of New York, to be a member of the Federal Labor Relations Authority for a term of 3 years (new position).

Submitted May 8, 1979

ALFRED L. ATHERTON, JR., of Florida, a Foreign Service officer of the Class of Career Minister, to be Ambassador Extraordinary and Plenipotentiary of the United States of America to the Arab Republic of Egypt.

FRANCIS D. MURNAGHAN, JR., of Maryland, to be United States Circuit Judge for the Fourth Circuit, vice a new position created by P.L. 95 48.6, approved October 20, 1978.

ARTHUR L. NIMS III, of New Jersey, to be a Judge of the United States Tax Court for a term of 15 years after he takes office, vice Arnold Raum, retired.
Jimmy Carter, NOMINATIONS SUBMITTED TO THE SENATE Week Ending Friday, Online by Gerhard Peters and John T. Woolley, The American Presidency Project https://www.presidency.ucsb.edu/node/249247