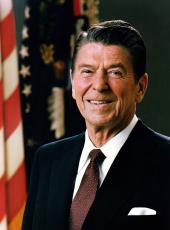 Nomination of L. Craig Johnstone To Be United States Ambassador to Algeria
The President today announced his intention to nominate L. Craig Johnstone, a career member of the Senior Foreign Service, Class of Minister-Counselor, to be Ambassador of the United States of America to the Democratic and Popular Republic of Algeria. He would succeed Michael H. Newlin.
Mr. Johnstone began his career in 1965 as an intern at the International Institute for Education, USAID contract, in Vietnam. He served in 1965-1966 in Vietnam with the Agency for International Development and in 1966-1970 with the Department of State on detail to USAID in Vietnam.
In 1970-1971 Mr. Johnstone was at the Council on Foreign Relations in New York and the Institute of Politics at Harvard University. In 1971 he became political/military officer at our Embassy in Ottawa, Canada. In 1973-1974 he was on leave without pay status at Capitol Hill. In 1974 he returned to the Department as Deputy Director of the Executive Secretariat in the Office of the Secretary of State, where he served until 1976. In 1976 he went on detail to the U.S. Sinai Support Mission. In 1976-1977 he was chief of the economic section at our Embassy in Jamaica. Mr. Johnstone took French language training in 1978 and then went to our Embassy in France as political/military officer. In 1981-1983 he was Chief of the Office of Central American Affairs and from 1983 to present has been a Deputy Assistant Secretary of State for Inter-American Affairs.
Mr. Johnstone was born September 1, 1942, in Seattle, WA. He received his B.A. in 1964 from the University of Maryland, did graduate studies there in 1965, and graduate studies at Harvard in 1971. He was on the faculty at the Institute of Politics at Harvard in 1971-1972. His foreign languages are Vietnamese, French, and Spanish. Mr. Johnstone is married to the former Janet Gail Buechel, and they have three children.
Ronald Reagan, Nomination of L. Craig Johnstone To Be United States Ambassador to Algeria Online by Gerhard Peters and John T. Woolley, The American Presidency Project https://www.presidency.ucsb.edu/node/259698