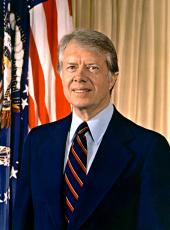 National Small Business Person of the Year Remarks at the Presentation Ceremony for Edward Gaffney.
THE PRESIDENT. First of all, let me welcome to the White House, to the Rose Garden, fellow small business persons of the United States. I always feel at home when I meet with those of you who have had a background as entrepreneurs, who have participated not only in ownership but also in the management of your own small business. I recognize not only the joys and accomplishments and the gratification of being a small business person but also the difficulties and the problems that are derived from that responsibility. And because of those difficulties, I sought a different job a couple of years ago, and thanks to some of you, I was successful. [Laughter]
Since I've been in the White House, being one of the few small businessmen who have ever served as President, I've made a special effort to open up government to the interrelationship that Ought to exist between small business leaders of our Nation and the members of the Cabinet and the agencies of the Federal Government—not just to help the small business community of our Nation but, equally important, perhaps even more important, to help government, because your perspective and your knowledge and your experience is a great reservoir of advice and counsel and constructive criticism that can be a major factor in making government better.
We've had, now, small business groups meet with almost all of the members of the Cabinet, and there is constant arrangement for periodic meetings between small business leaders of all kinds and my Domestic Policy Adviser, Stu Eizenstat, and his associates. So, there's a continual interchange and exchange of ideas that's been very beneficial to me.
Yesterday I signed an executive order that will set up a procedure that will result in a new emphasis on industrial innovation. In the last few years, there's been a deterioration in the amount of benefit to our Nation of new ideas, new concepts, and innovative ideas from business that can be very constructive to us all.
Under Vernon Weaver's leadership we've increased in 1 year the guaranteed bank loans for small business by about 40 percent, from roughly $2 billion in 1976 to $2.65 billion in 1977. We've tried to deal also with special groups in the small business community who in the past have been deprived. For instance, we set as a goal last year to double the amount of Federal procurement from businesses owned by minority citizens. And we will meet that goal, and we hope to increase it another billion dollars this coming year.
When we passed the legislation last year to put into effect a very strong public works program, we set aside 10 percent of that to be awarded to minority contractors, and we've exceeded that goal. We've tried to increase the amount of Federal money deposited in banks owned by minority owners. And this is the kind of thrust that we've tried to maintain all the way through.
I brought into the White House, too, a knowledge of some of the problems caused by Federal agencies. We've got a wonderful leader now, both in the Labor Department and in OSHA, and last year alone, we reduced the number of OSHA regulations by 30 percent, and we're still working on them.
And Dr. Eula Bingham is spending a lot of her time out talking to people like you all over the country, to say what do we need to make sure that workers in our businesses, in our factories are safe and healthy and not have an onerous burden on both the workers and the employers in bringing about that safety and that good health that we all want.
I've asked Vernon Weaver and Senator Nelson to help me arrange a White House Conference on Small Business next year, and we are preparing for that very carefully.
In the process, we've identified 200 small businesses around the country as test cases, and we are trying to analyze throughout this period what Federal reports, documents, requests have to be filed, to see how many of them are necessary, how many of them can be eliminated, how many of them can be abbreviated, how many of them can be changed from a monthly report to a semiannual or annual report, how many of them can be combined so you don't have to send the same data to many Government agencies.
I think out of this process will come an additional degree of effectiveness for the Federal Government itself. I've asked all the major agency heads—will, within the next few days—to bring to the Small Business White House Conference one major proposal from their own agency that will be of benefit to people like you.
Well, I could go on and on listing the kinds of things that we are trying to do in partnership with you to strengthen our free enterprise system and to strengthen the ties that ought to exist between government, particularly the Federal level, and you.
I know how superb the performance of the small business leaders is in our country. And to be chosen as the outstanding small business person in our Nation is indeed a high honor. This afternoon we are recognizing the person that has been chosen from our whole country.
Ed Gaffney has been chosen the outstanding small business person of the year. He organized his own business, Ortho-Kinetics, I believe, in 1962, when his own mother, who was afflicted by arthritis, had a hard time being moved around and getting in and out of a wheelchair. And in the process, he has now evolved a very fine small business to help handicapped people of all kinds. Not only is his heart in the right place, a business that obviously serves others, but he's been very effective in the management, in the growth, and in deriving a substantial and justifiable profit from his effort.
So, it's with a great deal of pleasure that I introduce to you and to the people of the United States, the outstanding small business person of the year, Ed Gaffney.
Let me just read the title while Ed stands over here by me. "The United States of America Small Business Administration presents the National Small Business Person of the Year Award, 1978, to Edward Gaffney for exemplifying the imagination, initiative, independence, and integrity by which the American small business person makes a vital contribution to the Nation, to the economy, and to the free enterprise system," signed "Vernon Weaver, Administrator, Small Business Administration."
MR. GAFFNEY. Thank you very much. I hope you're not all as surprised as my mother-in-law is. [Laughter]
I'd like to thank the Small Business Administration and all of you. It's been a pleasure getting to know the few of you that I have, and Mr. Carter in particular. It's very true that Mr. Carter has opened his administration to the small business movement, and I think that if we, as small businessmen, are unsuccessful in our efforts to improve the country, the fault lies with us. And we need to get organized and get to work and help Mr. Carter help us.

Thank you very much.
MR. WEAVER. Just one word. As the President said, he has called for a White House Conference in the fall of 1979. Right now, the small business community, we estimate, has the backing of more than 80 percent of the Congress. And with a President in the White House who was a small business person, who did get a loan from SBA, who paid it back— [laughter] —who got help from our SCORE volunteer organization—and he gives a lot of credit for his successful business career to SCORE, by the way—if we can't accomplish what needs to be accomplished in this next year, year and a half, for small business, we'll never accomplish it.
As the President said, he's asked every department to come up with one new idea that they can accomplish for you before that Conference, to be announced at that Conference. So, I believe the next 18 months are going to be the most significant months for the small business community in this history of this Nation. We want all of you to support it, and as many of you as can, come to the White House Conference. Thank you.
THE PRESIDENT. Thank you very much. Good luck to you, and we'll see some of you next year.
Note: The President spoke at 2 p.m. in the Rose Garden at the White House. Also attending the ceremony were the winners of the State and Territorial Small Business Awards for 1978.
Jimmy Carter, National Small Business Person of the Year Remarks at the Presentation Ceremony for Edward Gaffney. Online by Gerhard Peters and John T. Woolley, The American Presidency Project https://www.presidency.ucsb.edu/node/245549