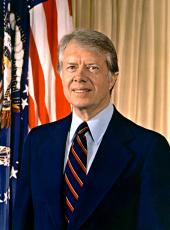 National Commission on the International Year of the Child, 1979 Appointment of 23 Members.
The President today announced 23 persons whom he will appoint as members of the National Commission on the International Year of the Child, 1979. They are:

MARJORIE C. BENTON, of Evanston, Ill., active in civic affairs and currently serving as U.S. Alternate Representative to the 32nd Session of the United Nations General Assembly;

UNITA BLACKWELL, mayor of Mayersville, Miss.;

EDDIE LEE BRANDON, of Aurora, Colo., chair. man of the board of directors of Child Opportunity Programs;

JOSE A. GARDENAS, of San Antonio, Tex., executive director of the Intercultural Development Research Association;

BILL COSBY, the comedian and actor, active in children's causes;

MARIAN WRIGHT EDELMAN, founder of the Washington Research Project, which became the Children's Defense Fund in 1973;
REV. AUSTIN FORD, director of a downtown community center, Emmaus House, in Atlanta;

MRS. ORVILLE L. (JANE) FREEMAN, a member of the national board of directors of the Girl Scouts of America;

FREDERICK C. GREEN, professor of child health and development at George Washington University School of Medicine and associate director of Children's Hospital National Medical Center;

ROBERT L. GREEN, dean of the College of Urban Development at Michigan State University;

CARROLL M. HUTTON, of Highland, Mich., director of the United Auto Workers Education Department;

BOK-LIM C. KIM, of Champaign, Ill., associate professor of social work at the University of Illinois;

GORDON J. KLOPF, of New York City, provost and dean of the faculties at Bank Street College of Education;

SHERILL KOSKI Of Iron, Minn., national youth chairman for the March of Dimes and member of the Task Force for Maternal and Infant Health Care for Minorities and the Poor;

REV. EILEEN W. LINDNER, of Alpine, N.J., staff associate for youth concerns in the National Council of Churches' Division of Church and Society;

STEVEN A. MINTER, of Shaker Heights, Ohio, program officer for the Cleveland Foundation, handling grants in health and social services;

JUDITH D. MOYERS, of Garden City, N.Y., a member of the board of trustees of the State University of New York and a founding director of Educational Products Information Exchange Institute;

MARIE M. OSER, of Houston, Tex., founder and executive director of Texas Child Care '76, Inc.;
LOLA REDFORD, of Provo, Utah, president of the board of directors of Consumer Action Now;

WINONA E. SAMPLE, of Santa Clara, Calif., chief of the Indian health section for the California Department of Health;

NANCY SPEARS, of Auburn, Ala., a former kindergarten teacher and active in educational and community development activities in Auburn;

MARLO THOMAS, the actress, also honorary chairwoman of the Children's Television Project of the Educational Foundation of American Women in Radio and Television;

CAROL H. TICE, of Ann Arbor, Mich., project director of Teaching-Learning Communities for the Elementary and Secondary Education Association.
Jimmy Carter, National Commission on the International Year of the Child, 1979 Appointment of 23 Members. Online by Gerhard Peters and John T. Woolley, The American Presidency Project https://www.presidency.ucsb.edu/node/248998