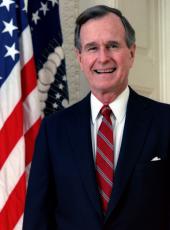 Message on the Observance of the Jewish High Holy Days, 1989
As Jews in this country and around the world observe Rosh Hashanah and Yom Kippur, a sense of introspection prevails. These ten days are a time to take stock of past actions and to make resolutions for the year to come.
The liturgy of these High Holy Days recognizes the weaknesses inherent in every human being. Jewish tradition holds that, at this time, each shall be judged by the Creator: "who shall live and who shall die . . . who shall be at ease and who shall wander about . . . who shall be lowered and who shall be raised." Were strict standards of justice to apply, we know that few of us could withstand examination; but those who observe the "Days of Awe" are reminded that neither as individuals nor as communities are we locked into our fates. What one does, what he or she gives to life, does make a difference.
The universal message of the High Holy Days is that each of us can affect both our personal fate and our fate as a community. These Days remind us of the redemptive value of humility and repentence. The Almighty, who judges both those who heed His commandments and those who do not, is also kind and merciful. This message has important meaning for Americans of all faiths.
Barbara joins me in extending best wishes to Jews everywhere as you mark the High Holy Days. May the year 5750 bring us all closer to that day when all the world shares a profound understanding of the Hebrew word for peace. "Shalom" means more than simply the absence of strife; it conveys a sense of wholeness of completeness. Only then will we truly be able to "beat our swords into plowshares." L'Shanah Tova -- may you be inscribed in the Book of Life for a good year.
George Bush
George Bush, Message on the Observance of the Jewish High Holy Days, 1989 Online by Gerhard Peters and John T. Woolley, The American Presidency Project https://www.presidency.ucsb.edu/node/264084