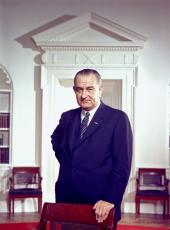 Message to the 18-Nation Disarmament Conference in Geneva.
THERE IS only one item on the agenda of this Conference--it is the leading item on the agenda of mankind--and that one item is peace.
Already this Conference has led to more concrete and effective results than any disarmament Conference in modern history. Your efforts and deliberations laid the groundwork for the nuclear test ban treaty--for the communications link between Washington and Moscow--and for the U.N. General Assembly action against nuclear weapons in space.
Today your search begins anew in a climate of hope. Last year's genuine gains have given us new momentum. Recent Soviet and American announcements of reductions in military spending, even though modest, have brightened the atmosphere further. Let us pray that the tide has turned--that further and more far-reaching agreements lie ahead--and that future generations will mark 1964 as the year the world turned for all time away from the horrors of war and constructed new bulwarks of peace.
Specifically, this Nation now proposes five major types of potential agreement:
First, as Chairman Khrushchev and I have observed, the use of force for the solution of territorial disputes is not in the interest of any people or country. In consultation with our allies, we will be prepared to discuss means of prohibiting the threat or use of force, directly or indirectly--whether by aggression, subversion, or the clandestine supply of arms--to change boundaries or demarcation lines; to interfere with access to territory; or to extend control or administration over territory by displacing established authorities.
Second, while we continue our efforts to achieve general and complete disarmament under effective international control, we must first endeavor to halt further increases in strategic armaments now. The United States, the Soviet Union and their respective allies should agree to explore a verified freeze of the number and characteristics of strategic nuclear offensive and defensive vehicles. For our part, we are convinced that the security of all nations can be safeguarded within the scope of such an agreement and that this initial measure preventing the further expansion of the deadly and costly arms race will open the path to reductions in all types of forces from present levels.
Third, in this same spirit of early action, the United States believes that a verified agreement to halt all production of fissionable materials for weapons use would be a major contribution to world peace. Moreover, while we seek agreement on this measure, the United States is willing to achieve prompt reductions through both sides closing comparable production facilities on a plant by plant basis, with mutual inspection. We have started in this direction-we hope the Soviet Union will do the same--and we are prepared to accept appropriate international verification of the reactor shutdown already scheduled in our country.
Fourth, we must further reduce the danger of war by accident, miscalculation or surprise attack. In consultation with our allies, we will be prepared to discuss proposals for creating a system of observation posts as a move in this direction.
Fifth, and finally, to stop the spread of nuclear weapons to nations not now controlling them, let us agree:
(a) that nuclear weapons not be transferred into the national control of states which do not now control them, and that all transfers of nuclear materials for peaceful purposes take place under effective international safeguards;
(b) that the major nuclear powers accept in an increasing number of their peaceful nuclear activities the same inspection they recommend for other states; and
(c) on the banning of all nuclear weapons tests under effective verification and control.
Each of these proposed steps is important to peace. No one of them is impossible of agreement. The best way to begin disarming is to begin--and the United States is ready to conclude firm agreements in these areas and to consider any other reasonable proposal. We shall at all times pursue a just and lasting peace--and with God's help, we shall achieve it.
Note: The message was read at the opening session of the conference by William C. Foster, Director-of the U.S. Arms Control and Disarmament Agency and head of the U.S. delegation to the conference.
Lyndon B. Johnson, Message to the 18-Nation Disarmament Conference in Geneva. Online by Gerhard Peters and John T. Woolley, The American Presidency Project https://www.presidency.ucsb.edu/node/240229