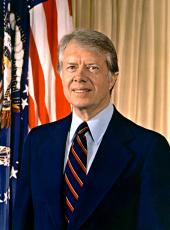 Memorandum of Disapproval of the Navajo and Hopi Relocation Bill
MEMORANDUM OF DISAPPROVAL
I am withholding my approval of H.R. 11092, the "Navajo and Hopi Relocation Amendments of 1978." I have no objection to the authorization in this bill to fund the important and difficult work being performed by the Relocation Commission to administer the partitioning of land which has been jointly used by the Navajo and Hopi Tribes. My failure to approve this bill will not affect the ability of the Commission to continue its work, because appropriations for this fiscal year have already been approved.
My objections to the bill center on section 4, which would provide for a one house veto of the relocation plan which is finally adopted by the Relocation Commission. I have previously informed the Congress of my view that such legislative veto devices are unconstitutional intrusions into the day-to-day administration of the law by the Executive Branch, including independent agencies such as the Relocation Commission. Congress is constitutionally empowered to overrule agency decisions executing the law only by enacting legislation subject to the veto power of the President under Article I, section 7 of the Constitution.
Where either Congress or the President is dissatisfied with the execution of the law by an independent agency or commission, legislation agreeable to both or enacted over the President's veto is an appropriate and constitutional means for overturning the result reached by that independent agency. If the Constitution required less, there would in fact be no true independence for agencies such as the Relocation Commission. This principle was adhered to by the Ninety-third Congress when it enacted the Navajo and Hopi Indian Relocation Commission Act in 1974 and is one from which we should not depart.
The bill also contains a provision which would oust incumbent members of the Navajo and Hopi Indian Relocation Commission if they happened to be Federal, State or local elected officials. This provision in section 2 has constitutional implications since it would allow for Congressional removal of officers in the Executive Branch. Further, as a matter of fairness and equity, interruption of the tenure of appointed officials by the imposition of new "qualifications" should not be lightly undertaken. Accordingly, I would suggest that the Ninety-sixth Congress, in any consideration of a similar bill, give due consideration to these problems.
The Administration will work with the Congress next year to develop any needed legislation to improve the operations of the Relocation Commission. The Commission needs to operate more effectively and I look forward to working with Congressional leaders such as Senator DeConcini and Congressman Udall toward this end.
JIMMY CARTER

The White House,

November 2, 1978.
Jimmy Carter, Memorandum of Disapproval of the Navajo and Hopi Relocation Bill Online by Gerhard Peters and John T. Woolley, The American Presidency Project https://www.presidency.ucsb.edu/node/243796