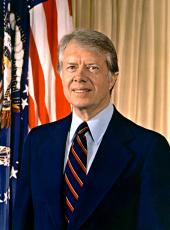 Maine Indian Claims Settlement Act of 1980 Remarks at the Bill Signing Ceremony.
THE PRESIDENT. Governor Brennan and Secretary Muskie, Senator Mitchell, representatives of the Passamaquoddy and the Penobscot and Maliseet Tribes:
This is indeed a culmination of a great deal of effort on behalf of everyone in this room—and a lot of those who are not assembled here today because the room is not large enough to hold those who have worked on this important legislation. This is also a great day for all the people of Maine, for the Indian tribes involved, for Maine's landowners, and also a good day for the Congress of the United States, because they are all satisfied with the settlement act. Because we have a settlement act, rather than lengthy and extremely costly litigation, a mutual consent agreement, rather than acrimonious debate and further division among the people of Maine, it's a good day for me as President as well.
When I first came to office in 1977, I was determined to help resolve the uncertainty surrounding the land ownership question in Maine. It was an intolerable situation. On the one hand, the Federal Government had failed to live up to its responsibility to the Maine Indians. On the other hand, the citizens of Maine were subjected to fear and uncertainty about the title to land they considered to be their own. The Federal Government owes a special responsibility to all the people of Maine, of course, Indian and non-Indian, to settle this claim.
In 1977 I appointed a very distinguished former Georgia Supreme Court Justice, William Gunter, to evaluate the claims and advise me on an appropriate course for the Federal Government to follow. At his suggestion, we appointed a working group which undertook extensive negotiations with the tribes and with the representatives of various landowners in the State of Maine. These negotiations have paved the way for a satisfactory out-of-court settlement of what might otherwise have been a lengthy and costly and bitter lawsuit.
The settlement authorizes a permanent land base and trust fund for the tribes and also resolves once and for all the title to the land for all the people who reside in Maine. The settlement act does something else as well. It's a reaffirmation that our system of government works.
A hundred and ninety years after the Passamaquoddy and Penobscot Indians and Maine settlers fought side by side to protect Maine's borders and help defend all Thirteen Colonies in the Revolutionary War, the people of Maine have again shown themselves to be an example of us all, by working together, by acting with patience and fairness and understanding. This should be a proud day for everyone who was involved in this effort, many of whom are here today—the tribes, who placed their trust in the system that has not always treated them fairly, the leaders of the State of Maine who came openly to the bargaining table, the landowners who helped make the settlement a reality by offering land for sale that they might not otherwise have wanted to sell, the Members of Congress who realize the necessity of acting, and all the citizens of Maine who have worked together to resolve this problem of land title.
And now it's with a great deal of pleasure that I, as President of our country, sign into law this bill, which settles once and for all in a fair and equitable manner a dispute that has concerned all of us over many years.
[At this point, the President signed the bill.]
I think I'll let a few of the people comment if you all have just a brief period of time. Governor, would you say a word first?
GOVERNOR BRENNAN. Mr. President, I wish to thank you and commend you and your administration for a superb response to solving the most difficult problem that has faced Maine in its history. By virtue of the efforts of your administration in the signing of this bill, an economic cloud has been removed from Maine, and the opening of a new relationship between Indians and non-Indians will begin. Thank you very, very much.
THE PRESIDENT. Senator?
SENATOR MITCHELL. Well, I'd just like to add my thanks to those of the Governor, Mr. President. This is but one example of your responsiveness to the problems of the people of Maine that has existed since you took office. With Loring Air Force Base, the Bath Iron Works, this settlement, your prompt response to the Governor's request last week for disaster recognition for the Maine coast demonstrated a concern and responsibility in dealing with the problems of the citizens of Maine. And I know everybody in Maine is deeply appreciative of that and very thankful to you. Thank you.
THE PRESIDENT. Ed, would you like to say a word?

SECRETARY MUSKIE. Mr. President, as I contemplate the history of this complicated problem, I can only think of one appropriate word to say. Amen. [Laughter]
THE PRESIDENT. Well, I'll let you choose someone to represent the Indian tribes, if you don't mind. Tom?
MR. TUREEN. I don't know why I get chosen.
THE PRESIDENT. You're chosen.
MR. TUREEN. Mr. President, we thank you. It's a problem not just for these tribes but for our whole system. If it hadn't been for your courage, who knows what would have happened in these cases. There's a temptation to turn your back on what was right, and you resisted that, and we'll all be appreciative.

Thank you very much.
THE PRESIDENT. I might say as a personal note that this is one of the most difficult issues I've ever gotten involved in. I've aroused the animosity and the criticism of almost everyone— [laughter] —at least for transient periods of time. But I felt it was my responsibility, as President representing all the people of this country, to stay with it, and I imported a very fine and distinguished jurist from Georgia to help me with it. And I think that his basic recommendation and the courage of all those here to face a difficult issue head-on has resulted in a settlement that's gratifying to everyone involved.
Again, I want to thank all of you for coming here. I think the people of Maine have responded well to a very difficult and potentially permanently divisive issue in your State. And I think that the final resolution has been a credit to our system of government.
SECRETARY MUSKIE. Mr. President, if I may mention one other person who is not to be forgotten, who can't be with us, and that's Governor Jim Longley—
THE PRESIDENT. Absolutely.
SECRETARY MUSKIE.—-who really fought for Maine's best interests, who persisted with you. And I think his involvement and contribution. ought to be recognized.
MR. PRESIDENT. Thank you, Ed, very much.
Note: The President spoke at 3:56 p.m. in the Cabinet Room at the White House.
As enacted, H.R. 7919 is Public Law 96420, approved October 10.
Jimmy Carter, Maine Indian Claims Settlement Act of 1980 Remarks at the Bill Signing Ceremony. Online by Gerhard Peters and John T. Woolley, The American Presidency Project https://www.presidency.ucsb.edu/node/250938