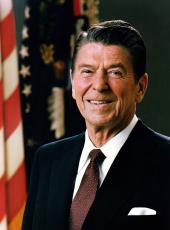 Letter to the Speaker of the House of Representatives and the President Pro Tempore of the Senate on the United States Air Strike Against Libya
Dear Mr. Speaker: (Dear Mr. President:)
Commencing at about 7:00 p.m. (EST) on April 14, air and naval forces of the United States conducted simultaneous bombing strikes on headquarters, terrorist facilities and military installations that support Libyan subversive activities. These strikes were completed by approximately 7:30 p.m. (EST).
The United States Air Force element, which launched from bases in the United Kingdom, struck targets at Tripoli Military Air Field, Tarabulus (Aziziyah) Barracks, and Sidi Bilal Terrorist Training Camp. The United States Navy element, which launched from the USS Coral Sea and the USS America, struck targets at Benina Military Air Field and Benghazi Military Barracks. One F-111 with its two crew members is missing. These targets were carefully chosen, both for their direct linkage to Libyan support of terrorist activities and for the purpose of minimizing collateral damage and injury to innocent civilians.
These strikes were conducted in the exercise of our right of self-defense under Article 51 of the United Nations Charter. This necessary and appropriate action was a pre-emptive strike, directed against the Libyan terrorist infrastructure and designed to deter acts of terrorism by Libya, such as the Libyan-ordered bombing of a discotheque in West Berlin on April 5. Libya's cowardly and murderous act resulted in the death of two innocent people—an American soldier and a young Turkish woman—and the wounding of 50 United States Armed Forces personnel and 180 other innocent persons. This was the latest in a long series of terrorist attacks against United States installations, diplomats and citizens carried out or attempted with the support and direction of Muammar Qadhafi.
Should Libyan-sponsored terrorist attacks against United States citizens not cease, we will take appropriate measures necessary to protect United States citizens in the exercise of our right of self-defense.
In accordance with my desire that Congress be informed on this matter, and consistent with the War Powers Resolution, I am providing this report on the employment of the United States Armed Forces. These self-defense measures were undertaken pursuant to my authority under the Constitution, including my authority as Commander in Chief of United States Armed Forces.

Sincerely,
RONALD REAGAN
Note: Identical letters were sent to Thomas P. O'Neill, Jr., Speaker of the House of Representatives, and Strom Thurmond, President pro tempore of the Senate.
Ronald Reagan, Letter to the Speaker of the House of Representatives and the President Pro Tempore of the Senate on the United States Air Strike Against Libya Online by Gerhard Peters and John T. Woolley, The American Presidency Project https://www.presidency.ucsb.edu/node/258332