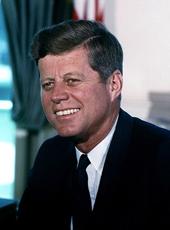 Letter to the President of the Senate and to the Speaker of the House Transmitting a Special Program for Feed Grains.
Dear Mr.__________:
I am transmitting herewith a bill to provide a special program for feed grains for 1961. I urgently recommend to the Congress the enactment of this emergency program so that it can cover the 1961 crop.
The existing program has failed. It has resulted in the accumulation of a burdensome and dangerous surplus, mainly of commodities for which there is no adequate outlet even under our expanded programs of providing food for those in need. At the same time, it has failed to protect farm income, and it is threatening to drive down the prices farmers receive for hogs, cattle, poultry and eggs, and milk to disastrous levels. If this program is allowed .to continue in effect for this year's crop, the stocks in Government hands will reach even more alarming proportions, a virtually unmanageable storage problem will be created, farm income will continue to suffer, and large amounts of Government funds will be needlessly expended. Immediate action is required to prevent further deterioration of this situation. In order to be effective with respect to this year's crops, a new program should be authorized by March 1st.
I believe that any legislation enacted should fit our over-all goal to use our agricultural abundance to meet the needs of our people, and at the same time provide a fair income for those who produce that abundance. We need to shift our production from commodities of which there is an unmanageable surplus to commodities for which there is a need, even as we curtail our production of those surplus commodities. The Secretary of Agriculture already has authority to take steps toward these goals with regard to some commodities, such as milk, soybeans and cottonseed, pork, poultry and eggs. However, new legislation is needed for effective action with respect to corn and other feed grains. The legislation I am now recommending will fill this gap with the authority needed to round out an emergency program for this year in the feed grain sector of our farm economy.
Although this is an emergency program, it is consistent with our long-range objectives and would accomplish the following: (1) a moderate increase in farm income; (2) a saving of several hundred million dollars of Government funds; and (3) a holding down or reduction of surplus stocks to more manageable proportions. This will be done without any material effect upon consumer prices.
The Government now holds 2.7 billion bushels of feed grains. The investment in feed grains stands at the all-time high of nearly $4 billion. The 1961 crop will soon be planted. By this fall, the nation will be confronted once again with a shortage of space in which to store grain. The shortage may amount to the off-farm space required for as much as 200 to 250 million bushels if we fail to take any preventive action now. The storage problem will be further accentuated in 1962.
The legislative proposals submitted herewith (1) would provide that cooperators would receive a support price of $1.20 a bushel for corn for 1961, and would receive supports for other feed grains in relation to those for corn; and (2) would authorize a 'special agricultural conservation program under which acreage previously planted to feed grains would be diverted from production for 1961. Unlike the present program under which a support price of $1.06 a bushel is paid to all producers without regard to any limit on production, producers will not be eligible for price supports under this new program unless they cooperate in the special agricultural conservation program.
This emergency program covers only the 1961 crop. I intend to recommend to the Congress other legislation covering both wheat and feed grain crops for subsequent years.
There is attached hereto a letter from the Secretary of Agriculture setting forth the details of the program. It is important that it be accorded the prompt consideration of the Congress.
Sincerely,
JOHN F. KENNEDY
Note: This is the text of identical letters addressed to the Honorable Lyndon B. Johnson, President of the Senate, and to the Honorable Sam Rayburn, Speaker of the House of Representatives.
Secretary Freeman's letter, dated February 1961, was also released.
John F. Kennedy, Letter to the President of the Senate and to the Speaker of the House Transmitting a Special Program for Feed Grains. Online by Gerhard Peters and John T. Woolley, The American Presidency Project https://www.presidency.ucsb.edu/node/235688