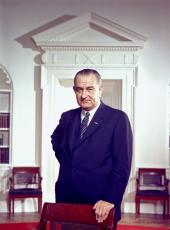 Letter to Secretary Gardner on the Opening of the First Educational Laboratories for the Improvement of the Nation's School Systems
Dear Mr. Secretary:
I am pleased today to be able to announce that your Department is awarding contracts for the operation of educational laboratories, a major new kind of institution to demonstrate and bring to the Nation's schools the best that we know in education. I am grateful to you for your efforts to implement this program inasmuch as these laboratories were a key element of the Administration's education proposals to the Congress last year.
I hope you will continue to press forward with the development of these laboratories to assist in improving our school systems. We simply cannot allow the school children of this country to find their education frustrating, unrelated to life, or inadequate to their needs in our increasingly complex world.
The laboratories should be large and significant enterprises, equal in size and scope to the major tasks they seek to accomplish. They ought to be conceived as comparable in their way to the large-scale laboratories of the Defense or Atomic Energy establishments. Nothing less will do. Their missions are equally important.
I share with you the great hopes for these laboratories. But it is a crucial question how they are to be transformed from a grand concept to a vital, practical force for change in the educational system. It is important, in this regard, that we continue to seek the advice of experts, both within and outside the Government, on the goals, priorities and accomplishments of these enterprises. I look to these laboratories:
--To stress putting into practice what we already know. The increase of knowledge through research must proceed at a rapid pace. But we have an even greater obligation to overcome the lag between discovery and use, and to convert the results of years of research into application in the classroom. This process will be speeded by establishment of extensive experimental schools and pilot projects showing educational innovation in real situations that can be seen and understood by administrators, teachers, and school boards.
--To deal with the highest priority common problems of education with which every community struggles and in doing so to contribute to a general elevation of the quality of education everywhere. Each laboratory, with unique talents, resources, and focal points, should, therefore, be broadly concerned with education in the whole Nation. --To involve outstanding scholars, experts, and artists in the development of new educational programs so as to assure that better methods of instruction are accompanied by improved content.
--To be a part of community life, drawing out public support and involvement in innovation in education and calling on the resources of the community and industry for planning and operation.
--To build links with other Federal programs so that every approach to educational improvement is explored and enhanced. Thus the laboratories should be related to the supplementary centers provided for in the Elementary and Secondary Education Act of 1965, to the teacher training programs of the Office of Education and the National Science Foundation, to appropriate activities of the Office of Economic Opportunity and the National Institutes of Health. I congratulate you and those who helped you develop the concept of these laboratories and request that you give continuing attention to their effective development.

Sincerely,
LYNDON B. JOHNSON
[Honorable John W. Gardner, Secretary of Health, Education, and Welfare, Washington, D.C.]
Note: The text of the letter was released at San Antonio, Texas.
Lyndon B. Johnson, Letter to Secretary Gardner on the Opening of the First Educational Laboratories for the Improvement of the Nation's School Systems Online by Gerhard Peters and John T. Woolley, The American Presidency Project https://www.presidency.ucsb.edu/node/238546