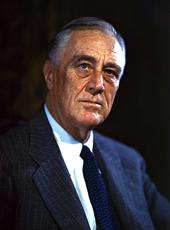 Letter to John J. Bennett, Jr., Endorsing Him for Governor of New York.
I have your wire and appreciate your bringing the matter to my attention. I have been getting some reports myself of a whispering campaign which seeks to spread false rumors.
To suggest that my support of you is formal and lukewarm is an untruth. I want to make it perfectly clear that I meant what I said—that you are without any question the best qualified of all the candidates for the Governorship.
There are no strings to this endorsement.

I do not believe in protest voting.

I accept as a fact that I can count on full cooperation and unity between the conduct of the affairs of New York State and those of the national Government if you are elected.
As a citizen and voter of New York, I express the sincere hope that you and not Mr. Dewey will be our next Governor. Under you there will be no danger that the long series of enactments of liberal legislation for the benefit of the average citizen during the past three Governorships will be repealed or emasculated.
Dear Mr. President:
You of course know how much I appreciate your support in my campaign for the Governorship. Since your statement there have been many for motives of their own who have spread stories that your support is not wholehearted. I have also heard of stories being spread to the effect that my relationships with you were not completely harmonious. I am sure that we both agree that such statements are entirely without foundation in fact. I know that when you expressed your support of me you meant it. I am sure that you know that I am fully behind you and your policies in these terrible times.

My warm regards.

JOHN J. BENNETT, JR.
Franklin D. Roosevelt, Letter to John J. Bennett, Jr., Endorsing Him for Governor of New York. Online by Gerhard Peters and John T. Woolley, The American Presidency Project https://www.presidency.ucsb.edu/node/210002