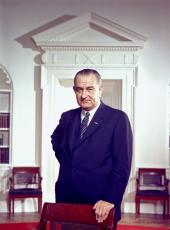 Letter to Dr. Jerome B. Wiesner as to the Need for Public Institutions of Higher Learning in the District of Columbia.
Dear Dr. Wiesner:
I am pleased to learn that you are willing to accept my appointment to the committee created by President Kennedy to make recommendations regarding publicly supported higher education in the District of Columbia.
The Committee is formulating recommendations on the following issues: Should the District of Columbia have publicly supported institutions of higher learning beyond the secondary school level ? If so, what type or types of institutions should be established, from junior colleges through graduate centers, and what relationship should any such institution bear to the existing public school system and to the existing universities-particularly Howard, which derives a considerable part of its income from Federal appropriations? Collateral issues which are relevant are the extent to which the unsurpassed resources present in the Federal agencies and their employees can be used or useful; the extent to which any institution should be available to non-residents of the District, and the manner in which the District can best take advantage in the field of higher education of the opportunities afforded by Federal aid-to-education programs and of new measures which might be enacted.
All of these issues are of very great concern and importance to the residents of the District and to the nation of which the District is the capital city. The Committee has already developed a program for obtaining the factual data upon which its recommendations will ultimately rest, and its staff has made considerable progress in securing this necessary information. I am sure, however, that your knowledge and experience will be of major benefit in formulating the judgments and recommendations of the Committee.

Sincerely,
LYNDON B. JOHNSON
[Honorable Jerome B. Wiesner, Special Assistant to the President, The White House]
Note: On September 23, 1963, President Kennedy announced the appointment of the Committee on Public Higher Education in the District of Columbia. The White House release listed as members Dr. Francis S. Chase, Dean, Graduate School of Education, University of Chicago, as chairman; Mrs. Agnes E. Meyer, of Washington, D.C.; Dr. Samuel M. Nabrit, President of Texas Southern University; Dr. James R. Killfan, Jr., former President, Massachusetts Institute of Technology; and Dr. Thomas R. McConnell, Chairman of the Center for Study of Higher Education of the University of California. Dr. George N. Shuster, Assistant to the President, University of Notre Dame, was appointed to the membership on October 7, 1963.
For the President's statement upon accepting the report of the Committee, see Item 457.
Lyndon B. Johnson, Letter to Dr. Jerome B. Wiesner as to the Need for Public Institutions of Higher Learning in the District of Columbia. Online by Gerhard Peters and John T. Woolley, The American Presidency Project https://www.presidency.ucsb.edu/node/238706