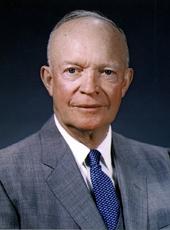 Letter to Congressman Joseph W. Martin, Jr., on Proposed Legislation Affecting Status of Forces Overseas.
Dear Joe:
I welcome the opportunity to reply to your request for comment as to the effect of the enactment of legislation having the purposes of House Joint Resolution 16 upon the status of our forces overseas.
In my judgment, the passage of any such legislation by the Congress would gravely threaten our security, alienate our friends, and give aid and comfort to those who want to destroy our way of life.
No longer does anyone suggest that we can safely withdraw behind the boundaries of a "fortress America". Yet this would be the ultimate effect of enacting this resolution. I can think of no recent legislative proposal which would so threaten the essential security of the United States.
Our troops are not overseas for the purpose of making war. Nor are they stationed around the world today merely for the protection of the lands where they happen to be located. They are there as allies to help maintain world peace so essential to the safety and the welfare of the United States.
We cannot demand--indeed we should not ask--that for us alone our allies in the struggle to maintain world peace should grant extra-territoriality and completely surrender their rights of sovereignty over criminal offenses committed in their lands. It must be remembered that the Congress in World War II in considering this issue as to allied troops in the United States was unwilling to relinquish our sovereignty under such circumstances.
This has been no partisan political matter in the United States. The NATO Status of Forces Agreement which crystallized these concepts was negotiated and signed in 1951 under the previous Administration. It was approved by the Senate by vote of 72 to 15 during this Administration. Such resolutions as H. J. Res. 16 have been previously rejected under the strongest sort of bipartisan leadership.
Although under international law each of our allies has full jurisdiction over criminal offenses committed within its borders, this rule has been qualified to our advantage in such agreements as the NATO Status of Forces Treaty. The United States is given primary jurisdiction where the offense is committed by a serviceman against another member of the United States forces, its civilian component, or a dependent, or against their property. Also, the United States is given primary jurisdiction where the offense arises out of an act done in the performance of official duty, whether it occurs on base or off base.
It has been, is, and so far as I can foresee will be our policy not to waive the primary United States right to try where the "performance of duty" matter is clear. As a matter of fact, no waiver of primary United States right to try has ever been given where that matter was clear.
Naturally, we are all directly concerned with protecting the best interests of our military forces. During my entire adult life I have been concerned with the welfare of the troops under my command, and I can assure you that the officers who are now in direct command of our armed forces share this concern and are watchful that every man in those forces be accorded fair treatment at all times and under all circumstances.
We have done our very best to insure that every member of our armed forces who is charged with a criminal offense abroad receives a fair trial and thus far, I believe, we have been successful in this.
Our display of confidence in the laws and courts of other nations through our status of forces agreements has produced a high degree of cooperation from these other nations. On a worldwide basis our allies in the first three and one-half years of the operation of such agreements have waived their undisputed primary jurisdiction in over sixty-five percent of the cases in which they had the primary right to try an alleged offender who was a member of our military establishment overseas. Japan has been particularly cooperative, since in this same period Japan has waived its primary jurisdiction to try in over ninety-six percent of the cases in which they had such right.
I regard as equally unfortunate any attempt to add the substance of H. J. Res. 16 as an amendment to any other measure, because such action would be gravely prejudicial to our national security.
For these reasons I feel most strongly that the passage of any legislation having the purposes of H. J. Res. 16 would be most hurtful to our national interests and to our aim of maintaining in the world the principles of peace and freedom. In our own interest, we need to continue to forge the bonds of understanding among the free nations.
With warm regard,

Sincerely,
DWIGHT D. EISENHOWER
Dwight D. Eisenhower, Letter to Congressman Joseph W. Martin, Jr., on Proposed Legislation Affecting Status of Forces Overseas. Online by Gerhard Peters and John T. Woolley, The American Presidency Project https://www.presidency.ucsb.edu/node/233379