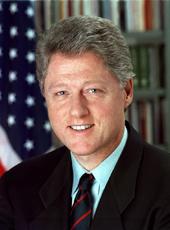 Letter to Congressional Leaders Transmitting a Report on the Enlargement of the North Atlantic Treaty Organization
Dear Mr. Chairman:
Pursuant to section 1048 of the National Defense Authorization Act for Fiscal Year 1997, I transmit herewith a report on the enlargement of the North Atlantic Treaty Organization.
For over 50 years, successive Presidents and Congresses have maintained a firm, bipartisan consensus that the security of Europe is vital to the national security of the United States. It remains so. NATO, even as it evolves and adapts to a changing world, remains the core of the transatlantic alliance that has served American interests for two generations.
Inclusion of new members into NATO's ranks is an indispensable element of a broader American strategy to create an undivided, democratic Europe for the 21st century. By extending the underpinnings of security beyond the arbitrary line of the Cold War, NATO can strengthen democratic and free market reforms for all of Europe, just as it has done for Western Europe in the decades since 1949. By admitting new states to the alliance, NATO will limit and help eliminate a potentially destabilizing vacuum in Europe, widening the circle of like-minded nations sharing common values and willing to shoulder common responsibilities and burdens. Already, the prospect of NATO enlargement has strengthened stability and democracy, and promoted regional cooperation among the states of Central and Eastern Europe.
The enlargement of NATO is not directed against any state; NATO does not see any nation as its enemy. By extending security and stability throughout Europe, NATO enlargement will serve the interests of all of Europe's democracies—whether they are current members, new members, or nonmembers. The United States looks forward to the building of a strong, dynamic relationship and unprecedented partnership between NATO and Russia.
NATO enlargement is moving ahead. NATO has agreed to hold a Summit on July 8-9 in Madrid at which one or more nations will be invited to begin negotiations on accession to the Washington Treaty; I have called for NATO to welcome new members by 1999, and NATO has accepted this goal. Continued close and bipartisan cooperation between the Congress and the executive branch are, and will remain, the keys to achieving this objective. Addition of new members to the North Atlantic alliance must be submitted to the Senate for its advice and consent, and both houses of the Congress will have to approve the resources necessary to make enlargement a reality.
I thank the Congress for the constructive role it has played in recent years to advance the enlargement of NATO. I look forward to working with the Congress to achieve our common objective of a wider circle of security, prosperity, and common values embracing an integrated Europe and the United States.
Sincerely,
WILLIAM J. CLINTON
NOTE: Identical letters were sent to Jesse Helms, chairman, Senate Committee on Foreign Relations; Benjamin A. Gilman, chairman, House Committee on International Relations; Strom Thurmond, chairman, Senate Committee on Armed Services; and Floyd Spence, chairman, House Committee on National Security.
William J. Clinton, Letter to Congressional Leaders Transmitting a Report on the Enlargement of the North Atlantic Treaty Organization Online by Gerhard Peters and John T. Woolley, The American Presidency Project https://www.presidency.ucsb.edu/node/223725